(Trinidad Express) Sport Minister Anil Roberts has effectively blocked the Congress of the People (COP) from investigating a "ganja video" showing a man resembling a Government minister rolling a joint.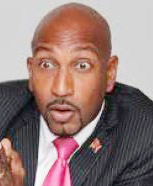 The minister opted not to speak on the issue when he appeared before COP officials at the COP's Flagship House headquarters in St Clair, making it clear the matter was in the hands of his attorneys.
TV6 News last Wednesday aired a video clip which showed an individual resembling a Government minister and sounding like him unwrapping a cigarette, placing a quantity of marijuana inside the cigarette skin, and then rolling it back together, all in the presence of a group of people, mainly comprising women, in what looked like a hotel room with the number 201.
Roberts has not confirmed or denied he is the man in the video.
He has instead attacked Opposition Leader Dr Keith Rowley, saying no voodoo and Opposition politics will stop him from performing his duties.
Prime Minister Kamla Persad-Bissessar, at the United National Congress's (UNC) fourth anniversary celebrations at Mid Centre Mall in Chaguanas last Saturday, said the video was in the public domain a year ago and conveniently reappeared on the news headlines on the eve of the Joint Trade Union Movement (JTUM) and Opposition march against the Government last week.
However, she assured all allegations of wrongdoing will be looked into.
The COP, of which Roberts is a member, appointed a committee comprising COP chairman Carolyn Seepersad-Bachan, Clyde Weather-head, Ann Mac Philip and Dr Anirudh Mahabir to investigate the matter. Roberts met with the committee on Thursday at the COP's flagship house but opted to exercise his right to silence.
Questioned following the meeting, Roberts said he met with his party members to plan election strategy. "Meeting with my party to determine the way forward to election 2015 to ensure that Keith Rowley never becomes prime minister," he said.
Asked if he was still a COP member, he responded, "Of course!" before jumping into his vehicle and being driven away.
Seepersad-Bachan however told the media Roberts indicated he was not willing to speak. She expressed disappointment at his move, saying the matter has been too long in the public domain.
"It was a meeting where we wanted certain clarifications…but he has indicated to us that he is not willing to comment, that the matter is in the hands of his lawyers and he will be adding no further comment, so we really did not get any further information," she said.
"May I also say that I am not very satisfied with that position either that we have not been able to resolve this matter," she added.
Meanwhile, Mahabir said no one has come out and actually made an allegation saying it was Roberts in the video and "one wonders what is he to answer". However, he noted the matter has gripped public attention.
"I think at the end of the day, as public figures, we have to be transparent and accountable, and we have an obligation to put these matters to a rest; this is going on too long in the public domain in my view," said Seepersad-Bachan.
COP political leader Prakash Ramadhar, in a brief interview with the Express on Thursday, said he did not attend the meeting but received a preliminary report from committee members.
Ramadhar said he cannot divulge any details but stressed the COP has to act within the confines of the party's constitution, and the executive will soon meet to look at how it will proceed on the way forward.
Around the Web