(Trinidad Express) Indentured immigrant, 110-year-old Sogaree Jattan, died at the Eric Williams Medical Sciences Complex on Saturday.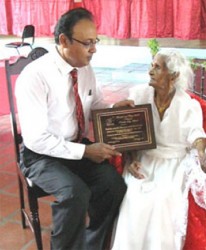 Jattan, who was believed to be this country's oldest living person, passed away three days after she was admitted to hospital for "general weakness" caused by her age.
And because she was not certain of her date of birth, Jattan's birthday was celebrated on Indian Arrival Day, the day before her death.
This year her special day was celebrated at the hospital, where relatives gathered at her bedside.
She was even presented with a bouquet of flowers by the hospital staff. Relatives said Jattan was always an active woman, who enjoyed gardening.
A strict vegetarian, Jattan lived at Sandford Street, California and was cared for by a nurse.
She was the mother of six children and lived to enjoy her 19 grandchildren and 29 great grandchildren.
Jattan often recalled how she travelled by boat to these shores when she was just four years old. She settled at Brechin Castle Estate, Couva and began toiling in the sugar cane fields with her parents.
Jattan was lovingly referred to as "Nani" in the community. And as she aged neighbours enjoyed listening to the stories she told of long ago.
Kumar Boodram, chief executive officer of the North Central Regional Health Authority (NCRHA), said the hospital's "special guest" was receiving the best medical care at the facility. He said he passed away at around 4pm on Saturday.
Relatives said Jattan was born in Uttar Pradesh, India and came to Trinidad with her parents on board the Indus in 1908.
Around the Web