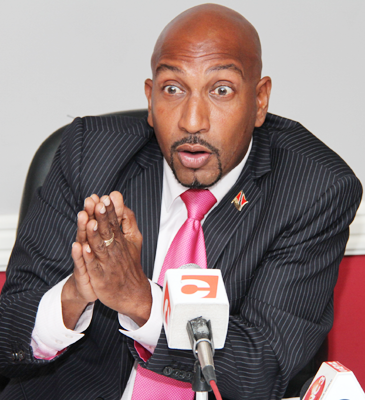 (Trinidad Express) Sport Minister Anil Roberts has been suspended by the Congress of the People (COP) for his failure to co-operate and clear the air on a video of someone resembling a minister rolling a joint.
The COP executive last night also indicated that Roberts should resign as minister until  the issue surrounding the video is cleared.
The executive further decided that it would move to explore opportunities in severing ties with Roberts permanently.
Last week Roberts met with COP chairman Carolyn Seepersad-Bachan and other senior party members who were mandated to question him on the video.
However, the investigation was blocked as Roberts refused to give any answers , saying the matter was in the hands of his attorneys.
The COP executive led by party leader Prakash Ramadhar held a meeting at the COP Operations centre, Chaguanas where the matter was discussed for almost two hours last night.
Speaking to the media just before 9 p.m Ramadhar said the executive decided to suspend Roberts and ban him from all party activities.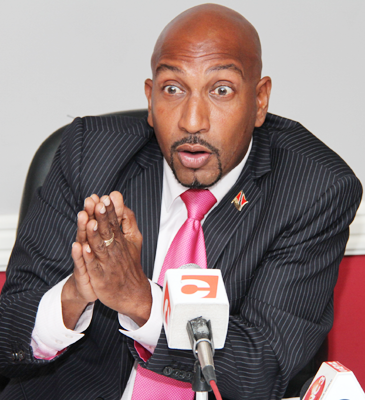 Ramadhar said the COP was ready to battle Roberts in the courts should he take any legal action against the party.
Ramadhar said these decisions were taken after "deep and serious" consideration.
"The party has decided that in the circumstances where Mr Roberts was invited and he did in fact attend a meeting and did not cooperate as well to clarify many of the issues that were raised in that meeting … until he does so the COP will not allow him to participate or represent the Party in any form or fashion," said Ramadhar.
He said when there is an allegation of public wrong doing, the party's position is consistent- that person should step aside.
"He (Roberts) should step aside as a Government Minister until he clarifies the video whether first of all if he's in it and two , whether any illegality was taking place," said Ramadhar.
Roberts, he said, was entitled to his legal right for the presumption of innocence and the party makes no pronouncement on guilt.
Ramadhar said there was a political aspect to this issue as the perception of many in the country demands that the matter be clarified to assuage the concerns of public and party.
Ramadhar said Roberts will be given an opportunity to be heard if he so chooses according to the party's processes.
"This is a political issue apart from a legalistic one and we could not be bound by the legalism that could easily tie the hands politically," said Ramadhar.
Ramadhar said according to the Westminster  system when such serious issues arise, the person resigns in the interest of the country and Government so there is no distraction in doing the work of the people.
Ramadhar said Prime Minister Kamla Persad-Bissessar is entitled to her processes in dealing with Roberts but the COP decision was taken because Roberts contested the D'Abadie\O'Meara seat on a COP ticket. At Indian Arrival Day celebrations Friday, when asked about the video, the Prime Minister said, Roberts had been meeting with the leader party and she was sure he would give feedback. She also said she would await the outcome of the Life Sport Audit which was part of his portfolio as Sport Minister.
Roberts has been elected and is an MP for the constituency and his suspension does not change the dynamics there.
"What it does change is that henceforth as I say steps will be taken to have Mr Anil Roberts removed as a member of this party.  I know there will be difficulties in that process but we must take a decision and we will stand the consequences of that," said Ramadhar.
Ramadhar said the COP acts on what is right and not as a matter of expediency.
He said further this Government has already set a precedent of "cleansing" the political space so in future no one can enter Government believing they are above scrutiny.
Asked if the COP was prepared if Roberts chooses to launch a legal battle against the executive decision , Ramadhar responded : "Its not going to be easy and we will deal with that battlefront if it should arise in the court."
Ramadhar said the executive decisions would have been relayed to Roberts last night .
He said until there is clarity on the video, the party will stand by its decision.
Comments

(Jamaica Observer) KINGSTON, Jamaica — Prime Minister Andrew Holness has declared a state of public emergency for the parish of St James.
(Trinidad Express) A 17-year-old Tobago schoolboy is fighting for his life in hospital after he was beaten into unconsciousness at school on Wednesday.

(Trinidad Express) A man was killed in Port of Spain shortly before midday.

CARACAS,  (Reuters) – Venezuela's government yesterday said online media had published "false information" about the petro cryptocurrency being proposed by President Nicolas Maduro.

SANTIAGO, (Reuters) – Pope Francis publicly expressed "pain and shame" yesterday over the rape and molestation of children by priests in Chile and later listened, prayed and cried at a private meeting with victims.