(Trinidad Express) Morvant residents staged fiery protests yesterday afternoon, blocking several roadways including the Lady Young Road and Mon Repos Road, leaving commuters stranded in standstill traffic as they vocalised their dissent to the death of 21-year-old father of one, Chaquille McCoy.
McCoy aka Chaquille Paul, of Mon Repos Road, Morvant, was shot and killed yesterday morning by North Eastern Division Police.
Official reports are that McCoy was killed following a police shoot-out with a group of men.
However, residents are strongly disputing this claim, calling these reports "outright lies" as several persons alleged they saw the officers "innocently kill" McCoy as he was working.
Several residents claimed they witnessed the incident and alleged the police had encountered McCoy as he was working on a construction jobsite near the river along with a group of men.
"(McCoy) was just standing there doing his work, cutting steel, minding his own business. Them police come up on the road and stopped near the track and watch down at him. He(McCoy) look up at them and didn't even take them on. He turned back around and continue to work. He was walking towards the river when all of a sudden you hear BAM! BAM! BAM! And gunshots just ring out. He start to run and the police take after him. He run down to the river and you just hear more gunshots.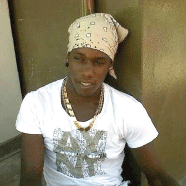 "When we looking down all we seeing is (McCoy) lying on the ground curled up, and then the police just continue to shoot at him. He died right there and then. We could see the blood from his head and his body. The man died right there! But the police pick him up and throw him in the vehicle and claim he dead at hospital. When they lift him up he wasn't moving. He wasn't bleeding, he wasn't breathing. The man died right there and then! So what they move him for? Aren't they supposed to preserve a crime scene? Instead they acting like they want to cover everything up. So how they expect us to react? That is madness!" explained one resident who asked not to be identified out of fear that he would be targeted.
Speaking to the Express, McCoy's brother, Isaiah, said his family was distraught over the incident and were demanding that the police officers responsible for the incident be brought to justice. He also explained that with his brother's death he was officially an "only child" as his older sibling, Dario McCoy had been murdered by unknown assailants in 2006.
"You mean to tell me I by myself now on these streets now? For what? What they do that for? That boy doesn't be in anything! The man just working hard to provide for his daughter. He now had Shakira six months ago, and the man was trying to do right by his life, and you mean to tell me these police officers come and kill my brother just so? Na man. That is not right," explained Isaiah.
He noted that he worked on the same site with Chaquille, and the only reason he was alive was that he had awaken yesterday morning with a bad feeling.
"I working on the same site with him and he asked me this morning if I was going to work with him. He get up and ask me, Panda you not going to work? I turn and let him no, I doh feel the vibes. I feeling to stay home. I not feeling to go to work at all. Next thing I know I walking up the road and I hearing that the police kill my brother. What they do that for? I don't even know how my mother feeling right now at all, that boy just love his football and music. He used to sideline as a DJ. What they kill him for?" Isaiah repeatedly asked. McCoy's mother, Marsha, said she was still trying to come to terms with the death of her son. She said that the actions of the police had left yet another family fatherless, and she called for a proper investigation.
"Some of these officers does come here and carry on crazy, crazy, crazy. You see them kind of police, the ones who shoot first and ask questions later,  the commissioner supposed to take away their badge. That is not police work. Police supposed to protect and investigate. They not supposed to intimidate and kill. I hearing they saying that he was in a track going to shoot up someplace, and that not even true. He was working. He was at work when they came. When I went to the morgue the only thing the police say they find on him was some weed in a cigarette, yet by the time I reach back here I hearing they now saying he had a gun on him? That is madness.
"I not going to say that Chaquille was perfect. He wasn't. But let me tell alya something, if he wanted to take the bad road he could have taken it. He had some stumbles yes, but he change his life around and was just working hard to provide for his family. And to hear that they still kill him, even though he trying to keep out of trouble, they still come for him? That is hurtful. That is just hurtful," Marsha explained.
Around the Web