(Jamaica Observer) Eight months after the Caribbean Court of Justice (CCJ) ruled that Jamaican Shanique Myrie be awarded damages for an illegal cavity search, detention in a dank room in the Grantley Adams Airport, and subsequent deportation, she is yet to collect a cent.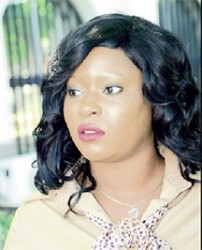 In October last year, the CCJ ruled that Myrie should be paid US$38,620 in pecuniary and non-pecuniary damages by the Barbadian Government.
Myrie expressed frustration on Monday and said the Barbadian Government was deliberately dragging its feet. "I am getting impatient. I can't understand why after eight months I can't even hear a word about what's happening about the money. It seems they want to wait until I get grandchildren. It's just not fair," Myrie told the Jamaica Observer.
Myrie's plight came to international light after the Observer chronicled how she was violated by a female immigration official and locked away with another woman in a cold, filthy room before being deported to Jamaica, despite not being found with any contraband or deemed to be in violation of any Barbadian law.
"It was not easy for me to come forward and speak about the treatment. I am encouraging others to speak out for their rights, so this is what I am doing now. I need my money," she said.
As a party to the Revised Treaty of Chaguaramas, Barbados has a duty to comply with all the judgements of the court promptly.
Around the Web