ST. JOHN'S, Antigua – 13th June, 2014………"To God be the Glory. Today is the dawn of a new day," were the words echoed by Antigua and Barbuda Labour Party Leader the Hon. Gaston A. Browne as he delivered his first address as Prime Minister Elect of Antigua and Barbuda.
The Antigua and Barbuda Labour Party on Thursday 13th June overwhelmingly defeated the United Progressive Party of Former Prime Minister W. Baldwin Spencer. The Antigua and Barbuda Labour Party won 14 seats and 3 seats went to the United Progressive Party.
Prime Minister Elect Gaston Browne outlined that he is humbled by the confidence that the people of Antigua and Barbuda has placed in him and the Antigua and Barbuda Labour Party.  "The work has just begun.  The country is in dire straits and requires the effort of all, the entire population to join our efforts to move forward.  We must remain a strong united nation in order for us to achieve our goal of rebuilding the nation," he said.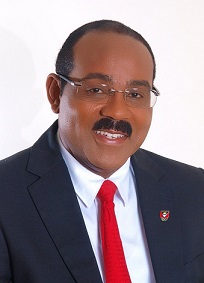 The country's new leader also emotionally thanked God for his blessings upon him and his party and praised his wife Mrs. Maria Bird Browne for being a tower of strength throughout the campaign.  "I would like to acknowledge the contributions of my mentally ill mother for exceeding the contributions of my father who is sane.  She struggled to raise her children and did a good job.  My only disappointment is that she is not in a position to enjoy the fruits of my accomplishments.  What I would like for the population to emulate is the fact that anyone of us who is unrelenting, disciplined and strong can achieve their goals.  Do not give up.  Always keep hope alive," Prime Minister Elect Browne passionately added.
Prime Minister Elect Browne further stated that, "the Antigua and Barbuda Labour Party has set an impressive vision for Antigua and Barbuda to transform it into an economic powerhouse.  The country is in dire straits and we must remain hopeful for a bright future.  We have the capacity to achieve that vision to make Antigua and Barbuda the envy of the Caribbean.  We have the capacity to create full employment.  We have the capacity to attract investment to grow this country," PM Elect Browne stated.
In further addressing the way forward for his administration and Antigua and Barbuda, PM Elect Browne noted that, "as Servant Leader, I will lead a team that will be the servants of the people and I will be a Prime Minister who is not divorced from the people but dedicated to serve.  I say to every Antiguan and Barbudan that we will honour our commitment to you.  We will not betray your trust.  We pledge to work in your interest.  We are the people's hope and aspirations.  We will hit the road running."
"We ask you to stand with us.  Lend us your support in transforming Antigua and Barbuda into an all-inclusive society.  We must embrace everyone going forward.  We must do so to transform Antigua and Barbuda into an economic powerhouse.  As your Servant Leader, this is my promise," PM Elect Browne concluded.
Prime Minister Elect Browne and his Attorney General Designate Steadroy C.O. Benjamin will be sworn in by Governor General Dame Louise Lake Tack at noon Friday 13th June, 2014.
Friday 13th June 2014 has also been declared a public holiday. (Maurice Merchant press release)
Comments

-number of redundant workers at 4,763 The National Assembly yesterday approved nearly $2 billion to facilitate full severance by the end of January for a little more than 1,600 of the 4,763 sugar workers that have been made redundant.

Following criticism over government's handling of the restructuring of the Guyana Sugar Corporation (GuySuCo), President David Granger and members of his Cabinet yesterday met with the leadership of the Guyana Agricultural and General Workers' Union (GAWU) and the National Association of Agricultural, Commercial and Industrial Employees (NAACIE) to discuss the future of the sugar industry.
An 18-year-old woman succumbed on Thursday evening, one day after she was allegedly beaten by her common-law husband during an argument at Baramita, in Region One (Barima-Waini).
In his absence, Ganesh Chaitram, who was charged with raping a 10-year-old girl in 2016, was yesterday sentenced to life in prison after a jury found him guilty of the crime.

City councillor Jameel Rasul says he will shortly be resigning his seat after being berated by his group, Team Benschop for going beyond the agreed six-month stint and voting in favour of the controversial parking meters deal.