(Trinidad Guardian) Sports Minister Anil Roberts has told Prime Minister Kamla Persad-Bissessar he has never used drugs, including marijuana, during his tenure as minister and "never taken, used or experimented with illicit or illegal drugs or ever been involved in any form or fashion with prostitutes."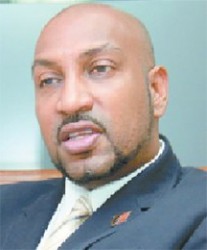 Persad-Bissessar, in a statement on Thursday night, said Roberts gave that explanation to her in a letter on Tuesday in relation to the controversial ganja video matter. And on the basis of this, the PM says she has no reason to remove Roberts from her Cabinet at this time.
The video arose in the public domain just over three weeks ago. It showed a person resembling a government minister rolling a substance believed to be marijuana into a cigarette in a hotel room with two women.
Roberts had refused to confirm or deny to the media whether he was the person in the video.
But after revealing the contents of Roberts's letter yesterday, the PM said: "After considering the strong denials made by the Honourable Minister and having regard to the fact that there exists no evidence to corroborate any of the allegations made against Minister Roberts, I find that there is no matter arising which requires my consideration at this time."
Roberts has remained mum on the video, save to vehemently accuse the Opposition People's National Movement (PNM) of being behind "the mischief."
However, the Congress of the People (COP) suspended him from the party after he blocked an investigating team's moves to investigate it. COP's executive began exploring severing ties with him permanently, adding Roberts should step down as a minister until the allegations were cleared. COP chairman Carolyn Seepersad-Bachan then said the ball was in the PM's court.
After the suspension, Roberts was absent from Parliament last Friday and also from last Thursday's Cabinet meeting. He was present at Thursday's meeting, sources said. Roberts' Sport Ministry is also at the centre of an audit by the Finance Ministry concerning allegations about its former Life Sport programme. National Security Minister Gary Griffith was reported to have said he had concerns and information on that. On May 24, Persad-Bissessar cut the programme from Roberts' ministry and transferred it to National Security, ordering the audit. Finance Minister Larry Howai says the audit will be completed in about three weeks.
In Thursday's statement, the PM dealt primarily with the issue of the "ganja" video. She said: "There has been a clamour in some quarters for me to have taken immediate action in relation to allegations made against Minister of Sport Anil Roberts. "I have demonstrated in the past on many occasions that I do not hesitate to act in addressing any matter but I'm also measured in the decision I arrive at through careful thought, always allowing deep process to take place.
Around the Web