(Trinidad Express) Ten years after stabbing his wife to death at a maxi-stand in Princes Town, Shawn Marcelline was yesterday found guilty of her killing.
Marcelline, 44, showed no emotion when the death penalty was read to him by Justice Norton Jack who presided at the trial in the San Fernando Second Criminal Court.
The 12-member jury deliberated for two- and-a-half hours before returning the guilty verdict.
Marcelline had been on trial for the murder of babysitter Juliet Victoria Cummings, the mother of his four children, on August 2, 2003.
Cummings was seated in a maxi-taxi en route to her home at Branch Trace, Monkey Town, New Grant, when she was stabbed 19 times.
She was wounded on her face, neck, scalp, jaw, hands and arms.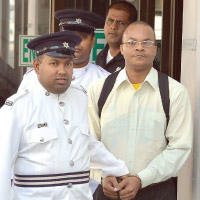 State attorney Trevor Jones had called 16 witnesses, including the maxi-taxi driver and pathologist Dr Hughvon Des Vignes, police officers, and Cummings's mother, Simone Mendoza.
Among the police officers who gave evidence was Sgt Steven Maynard, who testified that he was present for an interview with Marcelline at the Princes Town Police Station.
The three-page-long statement, which was not signed by Marcelline, was read to the jury.
Statements from nine other witnesses were admitted into evidence.
Last week, Marcelline in his defence claimed he could not remember killing his wife.
He said he recalled confronting Cummings in the maxi-taxi, after she told him not to go to New Grant to visit his children. He testified that she said she "had put him in court for maintenance".
Marcelline said she slapped and fought with him as he tried to evade her. He said she started quarrelling and he decided to leave but was slapped and there was a scuffle.
He said he did not remember how he reached home, but a police officer met him at his sister's house the next day and he was taken into police custody.
Comments

CARACAS, (Reuters) – Venezuelan authorities yesterday arrested five members of a "terrorist cell" linked to self-proclaimed rogue Venezuelan helicopter pilot Oscar Perez, and killed several other militants during a shootout in a poor area outside Caracas.
BRUSSELS, (Reuters) – European Union officials have proposed removing eight jurisdictions from the blacklist of tax havens the bloc adopted in December, in what critics may see as a blow to its campaign against tax avoidance.
RIO DE JANEIRO (Reuters) – A Brazilian court yesterday ordered the world's largest iron ore miner Vale SA to repair environmental damages its operations caused in land belonging to a community of descendants of escaped slaves in northern Brazil.
(Trinidad Express) Three men were killed in Manzanilla, and Fyzabad and Arima on Saturday night.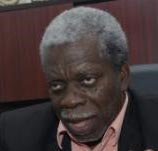 (Jamaica Gleaner) When president of the National Parent-Teacher Association of Jamaica Everton Hannam chose Fly Jamaica Airline to take him to Guyana for his annual end-of-year vacation, he could not guess the ordeal he would face.