(Trinidad Express) A teacher with 20 years service appeared in court yesterday charged with indecently assaulting a 16-year-old boy.
Ramesh Angatiah, an information technology teacher to fourth and fifth form secondary school pupils, appeared before Rio Claro Senior Magistrate Armina Deonarinesingh.
He was not called upon to enter a plea to indictable charges that on June 17 at Rio Claro, he twice indecently assaulted the boy. The charges were laid by PC Jaikaran.
Angatiah, 44, of Williamsville was granted $300,000 bail with the condition that he stays away from the teen, and has no direct or indirect contact with the alleged victim or members of his family.
But while this order was made by the magistrate, defence attorney Dane Halls asked that they be told to stay away from the accused.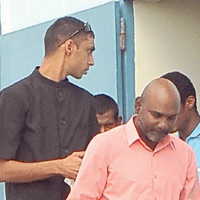 Earlier, Halls said Angatiah had received death threats but did not elaborate.
He also called for the prosecution to hand over disclosure in the matter.
Halls asked that the time of the alleged offence be made known as, he said, this would impact on the charges before the court.
"It would be a violation of principles of the legislation the Summary of Offences Act that the accused is not told the date, place and time of any offence. After six days, the information must be available to the accused and counsel," Halls said.
Halls asked that the station diary extracts summary of evidence and any written information in the possession of the police, from the time his client was arrested to the time he appeared before the court, be handed over. The defence attorney also claimed a recorded interview had been held with the accused.
Police prosecutor Sgt Russell Gopaul gave the time of the alleged offences as 8 a.m. and said both matters were connected and would remain before the court. He denied there was any tape recording from the police.
Gopaul later told the court a State attorney will be appointed and this prosecutor will provide the necessary disclosure to Halls.
In asking for bail to be granted to his client, Halls said Angatiah was not a flight risk and had been cooperating with police officers.
He said Angatiah lived with his elderly mother and was her "hand and foot".
Gopaul made no objection to bail being set and Deonarinesingh placed Angatiah on $300,000 bail. He will return to court on July 21.
Comments

(Trinidad Express) Prime Minister Dr. Keith Rowley admitted yesterday that something went drastically wrong and was crooked in the procurement of the passenger ferry the Ocean Flower 2.
SANTIAGO, (Reuters) – A Chilean court on Monday ruled that a law legalizing abortion in certain cases is constitutional, a win for President Michelle Bachelet's centre-left coalition and for groups that have campaigned for years against the country's strict ban.
LAGARTO, Brazil, (Reuters) – Former President Luiz Inacio Lula da Silva on Monday accused Brazil's government of undoing social progress made during his years in office and vowed to restore it if he was allowed to run again next year.

(Trinidad Express) Sports Company of Trinidad and Tobago (SPORTT) has given Shanghai Construc-tion Group (SCG) until noon today to vacate and demolish buildings which have been illegally erected and occupied for more than a year on the eastern side of the National Cycling Velodrome in Couva.
CARACAS (Reuters) – Venezuela's opposition-controlled congress yesterday rejected the self-proclaimed lawmaking authority of a new legislative body elected last month at the behest of President Nicolas Maduro, widening the political divide in the crisis-hit country.