(Jamaica Gleaner) Jamaica is exploring appointing a special rapporteur as the Government moves to improve its record on human trafficking.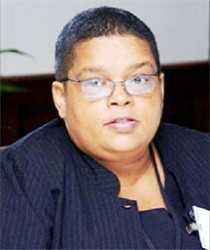 A rapporteur is someone who is given the mandate to investigate, monitor and make recommendations to address human rights problems.
Chair of the National Task Force Against Trafficking in Persons and Permanent Secretary in the Ministry of Justice, Carol Palmer, says this is one of the measures put forward by Jamaica during a meeting last week with US authorities.
The meeting was convened to discuss Jamaica's ranking in the 2014 Trafficking in Person Report, which saw the country being downgraded to the tier two watch list.
Being placed on the tier two watch list means that while Jamaica has taken steps to address human trafficking, not enough is being done to comply with the minimum standards to eliminate the trade.
Palmer says Jamaican officials reiterated the Government's objection to the Report at the meeting last week.
She says the US authorities accepted that some aspects of the Report need to be corrected.
Among other things, Palmer says it was accepted that adequate resources are in place for victim support and that the Government has no control over the courts securing convictions for human trafficking.
Around the Web