(Jamaica Gleaner) After mounting a legal fight to keep what Jamaican investigators claim are millions of dollars worth of ill-gotten assets, the family and friends of a suspected drug dealer have agreed to turn them over to the State.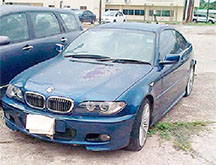 In a negotiated agreement formalised in the Supreme Court last week, the former girlfriend, father, and a female friend of Gauntlett Gallimore have agreed to forfeit a J$20-million house in St Ann and two BMW motor cars; however, as part of the agreement, Gallimore's former girlfriend gets to keep a Lexus motor car that was restrained by the court, and a stake in the house, among other things.
"It is not a total forfeiture. She is to get a part of the proceeds from the sale of the house and some other things," a source close to her told The Gleaner.
The case marks the latest victory for the Financial Investigations Division (FID) in its drive to go after assets believed to be derived from criminal activities.
"This recovery order is the manifestation of the division's strategy to fully utilise the criminal, civil, or administrative powers under the Proceeds of Crime Act to combat money laundering and forfeiting the benefits individuals obtained from crime – directly or indirectly," FID boss Justin Felice said.
Although he was never convicted for any drug-related offence, Jamaican investigators say Gallimore was involved in the illegal drug trade in the United Kingdom (UK) before he was deported in March 2008. He was shot and killed by unknown assailants five months later at his St Ann home.
The legal battle began in 2012 when the Assets Recovery Agency (ARA) went to court and got separate restraining orders for the house and motor vehicles.
To support the application, court documents show that Gallimore's girlfriend gave a statement to an FID investigator, admitting that the house had been purchased with money she obtained from him over several months.
INCOME SOURCE
The investigator also suggested, in court documents, that she had no source of "legitimate or illegitimate income to explain her ability to purchase the house".
Court papers show that Gallimore's last known employment in Jamaica was as a cook in Brown's Town, St Ann.
Around the Web