(Trinidad Express) Dr Merle Hodge yesterday fired a fierce blow at Attorney Gen­eral Anand Ramlogan, asking if Constitution Reform commis­sion­ers were "handsomely paid" to be silent on dishonesty, and describing his criticisms of her as "convoluted gossip".
"Were we 'handsomely paid', Mr AG, for us to be silent on this kind of dishonesty?" Hodge questioned in a statement entitled Government Dis­honesty About Run-Off Proposal. "Very unfortunate comment, Mr AG, for it suggests that your Government pays professionals not for their work, but to buy their acquiescence. You must know that you will never be able to buy everybody."
Hodge was one of five commis­sion­ers on the Constitution Reform Commission (CRC), chaired by Legal Affairs Minister Prakash Ramadhar. In a statement on Thursday on Govern­ment's Constitution (Amend­ment) Bill 2014, she called for a postponement of tomorrow's parliamentary debate and said the contentious run-off pro­posal was not in the People's Part­­ner­ship manifesto, the main consul­tations around the country or in the commission's final report.
Ramlogan responded the next day. He said he found her position strange since the commissioners were "handsomely paid" and linked her position on the bill to the defeat of the Winston Dookeran faction by the Rama­dhar faction in the Con­gress of the Peo­ple's (COP) internal election.
In her second state­ment in three days, Hodge reiterated the run-off provision did not arise during consul­tations.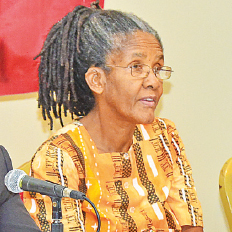 "The run-off provision did not come from the people, and it was never revealed to the people before Mon­day, August 4, 2014, one week before it was to be debated in the Parliament," she said. "It is therefore dishonest to claim that the people were consulted on this provision, espe­cially as the Government is turn­ing a deaf ear to what the people are saying about it during the week."
Hodge clarified how and when the run-off proposal arose.
"Up until Friday, August 8, 2014, at 10.17 a.m., the purported 'adden­dum' which contains the run-off proposal was an internal doc­ument, tagged 'Private and confidential. NOT FOR CIRCULATION'. That document did not then bear the title 'Addendum to the Constitution Reform Report'.
"It had grown out of a meeting held on April 30, 2014, at which the CRC discussed and agreed to some proposals selected from the report to be taken to Parliament. The run-off proposal was not there because it was not in the report.
"Further discussions were held at a meeting on July 9, 2014. Myself and another commissioner were absent from that meeting. I had other longstanding commitments for the July-August period.
"Notes from that meeting were cir­culated on July 13 for review and com­ment. That was my first introduc­tion to the run-off idea.
"I did not warm to the idea of thousands of votes being cancelled, and I pointed to this as part of my feedback. I did not see the red flags at the time for the idea was developed with cogent arguments supported by concrete evidence (Sections 46-57). I don't know where the run-off idea came from, but I have never had any reason not to trust the expertise and the good intentions of the CRC member who was our resource person in constitutional matters (Dr Hamid Ghany). Again, I gave my consent to the document, and again, I take responsibility for all of its contents.
"This confidential document, addressed exclusively to the Prime Minister in mid-July 2014, is the one that became, on the morning of Friday, August 8, the 'Addendum to the Constitution Reform Report'. It was never published and dissem­inated as the report was."
Hodge said since the Govern­ment's strategy includes "trying to make me a liar by putting out this 'addendum' story", she has had to reluctantly forget honour and breach confidentiality in order to clear her name.
"My concern with the run-off pro­posal is not so much where it first appeared; at this point, I don't care. My concern is how the population has reacted to it. Many people are offen­ded and alarmed by this particular item, and a democratic Government would take heed, rather than respond with bad-john defiance to a week of widespread objection."
Comments

LIMA,  (Reuters) – Pope Francis celebrated an open air Mass for more than 1 million people yesterday, ending a trip to Chile and Peru marked by tough talk on political corruption but a backlash over what many see as his insufficient resolve to tackle sexual abuse in the Church.
GUATEMALA CITY,  (Reuters) – Former Guatemalan presidential candidate Manuel Baldizon, who is wanted on graft charges, has sought asylum in the United States after he was arrested while trying to enter the country, authorities from both nations said.
MEXICO CITY,  (Reuters) – There were more than 25,000 murders across drug-ravaged Mexico in 2017, the highest annual tally since modern records began, government data showed.
LONDON,  (Thomson Reuters Foundation) – Four out of every five dollars of wealth generated in 2017 ended up in the pockets of the richest one percent, while the poorest half of humanity got nothing, a report published by Oxfam found yesterday.

(Trinidad Express) It is official! Retired judge Paula-Mae Weekes is now the President-elect of Trinidad and Tobago.