(Trinidad Express) Angry relatives walked around with cutlasses looking for killers following Friday's shooting deaths of two men and a woman when gunmen stormed a house off the Eastern Main Road, Valencia.
The incident occurred shortly after 9 p.m. and as a result the year's murder toll for the year stood at 393 yesterday.
The toll last year on December 13 was 369.
Sangre Grande CID detectives said around 9 p.m. a group of men walked into the house located opposite an area known as "Ma Jack Hill" and found Eric "Rampell" Ruiz, 33, his cousin, Keron Ruiz, 29, and Eric Ruiz's girlfriend, Teneka Bartholomew, 23.
The gunmen opened fire on all three in the living room of the house.
Both Eric and Keron Ruiz were shot several times about their bodies and heads. They both died at the scene.
Bartholomew ran outside but was pursued by one of the killers who opened fire on her.
When she collapsed after being shot once, the gunman walked up to her and shot her twice in the head, killing her instantly.
The gunmen then ran into a forested area at the back of the house where they hid.
Residents who heard the gunshots called the Sangre Grande and Valencia police who arrived within ten minutes of the shootings.
Police spotted one of the killers as he stood in the bushy area.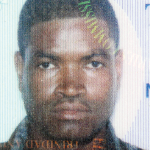 When the police called out to him he opened fire.
There was an exchange of gunfire but the killers retreated deeper into the forest and remained at large up to last night.
The Sunday Express also met with Vera Ruiz, the mother of Eric Ruiz.
"I get a call that they shoot my son and my nephew and this is something I was not expecting."
She said her son "never trouble nobody. He never get in no fight or trouble or anything like that. He work hard in his garden during the day and in the evening he would go and work taxi. He had no children but he had plans for having children".
Ruiz said she would miss both men for the Christmas period as her nephew (Keron) would usually help her paint her home while her son, Eric would provide her with produce that he grew in his garden.
The bodies of the three victims were taken to the Sangre Grande Mortuary and a post mortem is expected to be done tomorrow at the Forensic Science Centre, St James.
Around the Web