(Trinidad Express) Judge in the morning, defendant in the afternoon.
This is how Justice Ramchand Lutchmedial, vice-president of the Industrial Court, will spend today, having been charged last Friday under the Motor Vehicles and Road Traffic Act.
Lutchmedial will appear before a Tunapuna magistrate charged with failing to submit to a breathalyser test.
He is among several persons making a court appearance for offences related to "driving under the influence" (DUI).
Under the law, a police officer may require a driver or a person in charge of a motor vehicle to provide a specimen of breath for a test at (or) near the place where the request is made, if he (officer) has reasonable cause to believe that the person has consumed alcohol above the prescribed limit.
The law also states that a police officer can have reasonable cause to administer a breath test where:
(a) he has smelt alcohol in the suspected person's breath;
(b) The suspected person has slurred speech;
(c) The suspected person is swerving whilst driving on the road; and
(d) Where the suspected person has poor co-ordination.
The judge was arrested and charged during a police exercise in the Chaguanas district on Friday night.
According to police reports, officers were conducting an exercise when they noticed the vehicle swerving.
The driver, who turned out to be Lutchmedial, was stopped and officers asked him to exit the vehicle.
The officers made certain observations as he exited the vehicle, according to the report. He was asked to provide a breath specimen.
The driver refused and was taken to Chaguanas Police Station where he was charged.
The Express understands Lutchmedial was granted station bail in the sum of $500.
Checks by the Express revealed the judge has an all-day matter involving the Banking, Insurance and General Workers Union (BIGWU) and Stechers from 9 a.m. today.
The judge is expected to make his appearance this afternoon, since all matters listed at the Chaguanas Magistrates' Court have been transferred to Tunapuna.
The Express contacted Lutchmedial yesterday afternoon for comment and he said: "I have no comment to make" and then hung up the phone.
The Express tried again to contact Lutchmedial, but all calls to his cell phone went unanswered. Messages left were not returned.
Lutchmedial was appointed a judge in 2001. In 2012, he was named VP of the Industrial Court.
Last month, during an Express investigation, it was revealed that a senior Government official had been lobbying for the removal of Industrial Court president Deborah Thomas-Felix and have her replaced by Lutchmedial.
President Anthony Carmona last week re-appointed Thomas-Felix as head of the Industrial Court.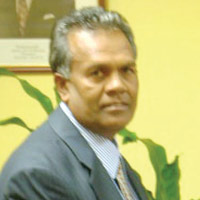 Around the Web