WASHINGTON, (Reuters) – The historic breakthrough in U.S.-Cuban relations began in spring 2013, when President Barack Obama authorized secret talks with Havana, the same tactic he used to open nuclear negotiations with Iran.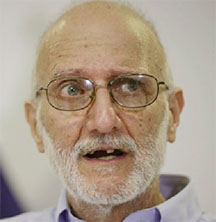 Months of talks in Canada and at the Vatican, involving one of Obama's closest aides, culminated on Tuesday when Obama and Cuban President Raul Castro spoke by phone for nearly an hour and gave final assent to steps that could end a half-century of enmity and reshape Western Hemisphere relations.
Obama believed that "if there is any U.S. foreign policy that has passed its expiration date, it is the U.S.-Cuba policy," said a senior Obama administration official, briefing reporters on condition of anonymity.
The Vatican played a key role in the rapprochement, including facilitating talks on the release of Alan Gross, a former subcontractor for the U.S. Agency for International Development who returned from Cuba on Wednesday after five years' imprisonment, U.S. officials said.
In early summer 2014, Pope Francis – who is from Argentina – sent separate personal letters to Obama and Castro, urging them to exchange captives and improve relations.
When the pope received the U.S. president in Vatican City in late March, the secret Cuba talks were a central topic of discussion. Cuba "got as much attention as anything else," the official said.
The first face-to-face talks that eventually led to this week's deal took place in June 2013 in Canada, which has long maintained relations with Cuba.
Leading the U.S. delegation were Ben Rhodes, a close Obama aide who is a deputy national security adviser, and Ricardo Zuniga, the top Latin American specialist on the White House's National Security Council. The names of the Cuban participants in the talks could not immediately be learned.
Around the Web