(Trinidad Express) Government will pay $2 million to acquire the memorabilia of the Mighty Sparrow (Slinger Francisco).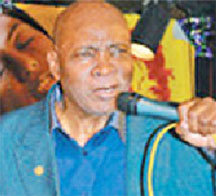 Minister of Culture Lincoln Douglas said yesterday the money will go to the family of the calypsonian. He said the Ministry of Culture will acquire the memorabilia for a ten-year period, with the option for renewal.
"We would have a ten-year unlimited access with custodianship…to replicate, license material, derive income and put on show and curate the works of the Mighty Sparrow," he said.
Douglas said he expected Sparrow's works to be put on display by February 2015 and that Government will license all the memorabilia which includes six crowns, 52 certificates, 42 CDs, eight citations, four DVDs, 14 medals, 136 plaques, 76 pictures, 22 proclamations, eight tokens, 94 trophies and 78 videos. He said Government was preparing a festival village to display the items in Port of Spain.
The legal procedure to acquire the mementos were, however, still being worked out, he added.
Douglas also gave the assurance there would be no cutbacks in Carnival prizes given the fall in oil prices. "No cut whatsoever in subventions for regional Carnival, mas prizes, calypso prizes or steelband prizes," Douglas stressed.
He added the Government would continue to look into the works of some of the country's other great artistes. "We will work with them to curate and display the works that they have produced over the years. I think we started with the Mighty Sparrow because we are honoured he is here with us and is still performing all over the world," he said.
In September 2013, the calypso icon nearly lost his life after he suffered a stroke, then fell into a diabetic coma. He spent three months in a hospital in New York, USA.
He returned home but announced he would appear at events to help get income to pay for his medical expenses.
The Prime Minister subsequently announced the Government would cover the costs of his medical expenses. Efforts to contact Sparrow in New York and Trinidad last evening were futile as all calls went to voicemail.
 THREE FESTIVAL VILLAGES
Douglas also announced Cabinet had agreed to the development of three Festival Villages. One was already established at Laventille in collaboration with Laventille Rhythm Section.
He said this was 55 per cent complete and would be completed at a cost of $4.1 million.
Another Festival Village would be established in San Juan, in collaboration with Pamberi. This one was 33 per cent complete and would cost $2.3 million.
The third Festival Village would be at Mausica. This one was started 28 years ago, when the Mausica Folk Performers was the pre-eminence group in the country. He said this was 10 per cent complete and would cost $8.1 million to finish.
Around the Web