A 25-year-old Corentyne woman has had her right leg amputated after she was grievously wounded in the limb by her estranged husband last month.
Kamlawattie 'Seema' Lionel of Lot 81 Ankerville, Port Mourant, Corentyne, Berbice was also  stabbed in the abdomen by her husband Shameer 'Kishan' Approon, 27, a cane harvester, on December 22. The man went into hiding immediately after the incident and is currently wanted by the police.
Lionel, a mother of one, had separated from her husband two weeks prior to the incident and moved back with her parents,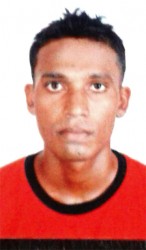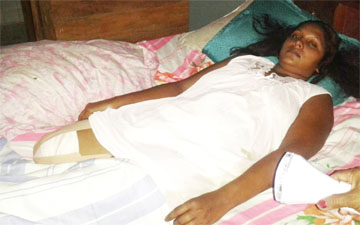 a few houses away. The woman said she had walked out of the seven-year marriage because of constant abuse.
Recalling the day she was stabbed, Lionel said she had left her mother's home and was going to her grandmother's. She had not taken ten steps when she confronted by her husband who was on a bicycle.
She said Approon asked her: 'Seema you na gon take meh back? Seema you na like meh? Seema why you left meh so long? You get other man?'
"Then he ask three or four times 'you na want meh back' and me said no," she recalled. She said she was asked again, 'You sure you na want meh back?'  Seconds after she said no, she heard her husband say, 'well tek this'.
"He pulled out the knife and give me two jooks on me belly. Me didn't see the knife. Me na feel the juks," she said.
However, her mother, who was standing at the gate, saw what was happening and rushed to her while raising an alarm. It was then that she started to feel dizzy and she sat near the alleyway. Her husband saw her mother coming and he took the knife and plunged it into her right leg a few inches above the knee. "The knife went through and through meh foot. Meh coulda feel it on the other side. Was only the knife head you could have seen," Lionel said.
Public-spirited citizens responded to her mother's cries and rushed to her aid, binding up her wounds and taking her to the hospital. In the meantime, her husband escaped.
Lionel said she remained conscious throughout the entire incident and recalled that doctors told her she could have died. They told her amputation was the only choice they had to save her life.
Looking back, Lionel said that when her husband approached her she was not afraid of him. "This Sunday when he come he na had no vicious nor cruel look. He just look normal. He hold me and start to ask all the questions," she recalled. "I don't know him to be a person like this. I never see him this way. I won't lie he does knock meh and we does get we misunderstanding, but I never expect he woulda do this to me."
According to the woman, whenever she was abused by her husband she would leave him. "I would go by my mother and stay there and he would come and hug meh and kiss meh and tell meh sorry. Sometimes he would even cry and tell me sorry and I would go home back. This time I made up my mind though," she added.
She said that when Approon attacked her he was on a bond to keep the peace.
Lionel said she had reported the abuse several times and her husband had been charged and was in the locks ups for a few days. She added that during the two-week period while she was at her parents' her husband would verbally abuse her. Her father, she added, talked to him and he stopped.
Lionel said that while her husband was on the bond, he had started to physically abuse her again even though he went down on his knees and promised he would never abuse her again. "I tell meself good nah deh here. It na reach two weeks and he doing it again. I decide to walk out," she said bravely.
Asked why Approon abused her, Lionel said, "When he drink he a beat me. We does live good but when he drink he a beat me. A time he beat me, my skin black and blue."
Lionel said she was stabbed because "I told him I don't want he back". She said Approon had told her in the past that if she left him he would kill her and himself. Prior to the incident, she said, neighbours had warned her that Approon was walking around with a knife and a bottle of poisonous substance. Declaring that she is very fearful for her life, Lionel said that if anyone knew the whereabouts of the accused they should make a report to the police.
Meanwhile, relatives said that when Lionel was discharged from the hospital, the ambulance driver told them they would have to pay $12,000 as he could not take one patient. They opted to hire a private vehicle instead.
Comments

A sketch of the proposed Curepe Interchange (Trinidad Guardian) China Railway Construction Corporation (CRCC) has been awarded a $221.7 million contract by the National infrastructure Development Company (Nidco) to build the controversial Curepe Interchange, the state company's chairman Herbert George has confirmed.

Legal Advisor to the Police, retired Justice of Appeal, Claudette Singh yesterday testified that there was insufficient evidence in the allegation made by Andriff Gillard of an alleged plot to assassinate President David Granger.

Today at 2 pm the 30 councillors of the Georgetown City Council will once again cast a vote on the future of metered parking in the city and several of them have told Stabroek News that they want to be sure their vote accurately represents a mandate from residents.

Crime Chief Wendell Blanhum yesterday made a written request to be recalled before the Commission of Inquiry (CoI) investigating the allegation of a plot to kill the President of Guyana to defend himself against "appalling" statements made by Assistant Commissioner of Police David Ramnarine.

Two men were yesterday remanded to prison by a city magistrate after they were charged with the fatal stabbing of Rawle Rodrigues which occurred in January.