A major archaeological find in the Berbice area, which has attracted foreign researchers was among the highlights referred to yesterday when Minister of Culture, Youth and Sport, Frank Anthony reviewed the last year.
At a press conference where he extolled the ministry's accomplishments for 2013, Anthony said too that the ministry was able to complete the bulk of its obligations for 2013.
Anthony said the ministry would be partnering with a number of universities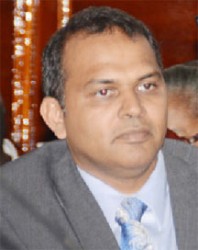 and other institutions to carry out research work at the archaeological site.
The site stretches beyond Fort Nassau area where there is a huge savannah area and Anthony said researchers had noticed a number of mounds rising up in the Savannahs that might date back before the birth of Christ and possibly the home of an ancient civilization.
If the findings are correct, Anthony said, "then it's putting whatever civilization that was there in line with the Egyptian civilization and it would possibly be one of the earliest civilizations in South America," he said, adding that since the site has attracted foreign researchers, the ministry would be monitoring all archeological excavations.
"We want to work to put some rules in place so that not everybody could come in…and we want local people to be involved so that we would become the custodians of the findings," he said.
He added that it is possibly the most promising area in Guyana and South America. "But again we have to allow the research to continue and once we get more data we can definitively pronounce on these findings. Last year we did some work in demarcating the area and we have located the mounds," he said, noting that the kind of settlement patterns that were observed were similar to settlement patterns in Suriname, French Guiana and Brazil.
"But the epicentre seems to have been in the Berbice area," he said. He also noted that Guyana has been attracting a lot of Dutch researchers.
Meanwhile, with regard to the other sections of the ministry, he noted that a lot of focus was placed on developing skills in youths through residential and non-residential programmes.
He said much attention was placed on revising the National Youth Policy, adding that equal emphasis was placed on infrastructural development. He said the ministry was hoping to expand the Kuru Kuru Training Centre to facilitate more youth access to its programmes. The Canadian Government had provided the centre with a volunteer to develop a master plan.
"These facilities are giving [young people] the opportunity to gain a skill and become employable," he remarked. "It's really playing a pivotal role in helping young people…"
He said too that a lot of people have shown interest in Dutch records in the National Archives and those records are being used for publication.
He also indicated that the National Archives will continue to digitalize records.
He said a technical firm had developed software to store the records. "But this year we will focus more on sound records and also we will be exploring the possibility of video records," he said.
Comments
British High Commissioner to Guyana Greg  Quinn  yesterday said that it was hoped that more would have been done to push the constitutional reform process forward.

A West Coast Berbice man died after he reportedly set his one-storey house ablaze sometime around 11.20 am yesterday.

A Yarrowkabra miner was yesterday charged with the murder of a co-worker, whom he allegedly beat to death during an alcohol-fuelled clash last Saturday at a dredge site in the Potaro Backdam.
A court action was yesterday filed challenging a directive issued in the name of President David Granger to the Police Service Commission (PSC) for a hold to be placed on planned promotions this year, Attorney Rajendra Jaigobin, who operates from the Chambers of former Attorney General Anil Nandlall, is seeking the following declarations by the court: "a declaration that the Police Service Commission, a Commission established by the Constitution of the Cooperative Republic of Guyana, in the exercise of its functions shall not be subject to the direction or control of any other person or authority;
UK security expert Lt Col (rtd) Russell Combe, who is working closely with the Guyana government to resuscitate the Security Sector Reform Action Plan (SSRAP), will be broadening his mandate to assess the country's prison situation.