Body of boy, 16, found on seawall, drowning suspected
The body of a 16-year-old boy was discovered yesterday at the Kitty seawall in the vicinity of the 1823 Monument and he is believed to have drowned.
Dead is Jerome Sturge of 32 East Ruimveldt Front Road Squatting Area. He was a former student of Carmel High and the David Rose School.
His mother, Margaret Persaud, said that she last saw her son around 10 am on Thursday shortly before he left home in the company of two other boys. "Apparently these boys are his friends. The night before, these guys came out here and I turn and tell them that I hope that they don't come and pick up Jerome and y'all does go about smoking," she said.
"Before they left one turn and holler if 'yuh bring the bamboo?' so I turn and say y'all talking about bamboo? Why y'all talking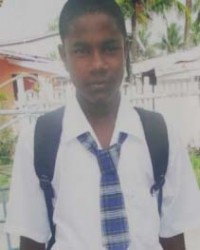 about bamboo? Then y'all does smoke? I say if it get to my hearing that y'all smoking then I am going to get the police. They walk away grumbling and they buss out a laugh and went their way," Persaud added.
She said that on Thursday evening a man went to her home and enquired about a boy in the area who had just drowned. "He didn't have a name and when I ask him if the person name Jerome he said yes.
Right away I jump in a taxi with some other neighbours and I went to the Kitty Police Station and that is when I saw the two boys giving statements to the police," she said. Persaud said the teenagers told her that her son was swimming and then he just went down.
"I know Jerome cannot swim. He was not known to go on the seawalls and we don't think he drowned," Persaud said. She said that one of the two boys looked "very suspicious. Even when I was at the station last night he ain't looking at no one in their face," she added.
Her daughter, Anita McIntyre told Stabroek News that her brother's death did not look like a drowning. She believes that the two teenagers who were last seen with him knew more about what had transpired than they were saying.
"How I see my brother this morning [that] ain't look like no drowning. Blood was oozing out of his mouth and nose," she said.
McIntyre said her daughter had a black band and while they were at the station on Thursday night she observed it on one of the teenager's hands. She said when he was asked about it, the teen took it off and put it in his pocket.
McIntyre recalled that her younger brother was doing housework when his friends went to pick him up and that was the last time she saw him. "He was washing yesterday morning and these two guys come and pick up my brother and he went to another friend's house and then they left to go to the seawalls. When we get the message last night and go out there the police was out there. Everybody out there say they see this and they know this, but nobody ain't want to give a statement."
She said she was told that a woman who knew one of the boys saw him on the seawall "panicking" and asked him what he was doing out there so late since he was known to have seizures.  "The boy turn and say my friend just drown. That is how people know somebody drown," she added.
She said the police searched on Thursday night, but found nothing
Most Read This Week