National Industrial and Commercial Investments Limited (NICIL) has received 22 Expressions of Interest (EOIs) from entities looking to partner with the Government of Guyana (GoG) to construct the new Demerara Harbour Bridge (DHB).
Advertisements inviting the EOIs were placed in the Guyana Chronicle last October by government's holding company NICIL, which stated that the responses to the invitations for EOIs will be used to guide the selection of a partner or partners who will work with the government to design and implement the project.
"The project will be implemented via a special purpose company, financed debt and equity contributions, following a public/ private partnership mode," NICIL said.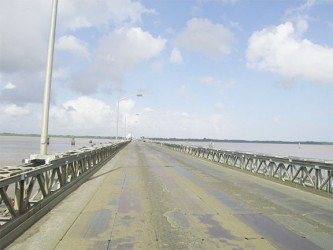 Stabroek News made attempts to speak the bridge's General Manager Rawlston Adams on Friday on progress made thus far, but his secretary indicated that he was busy and could not take a call. NICIL Chairman Winston Brassington, when contacted, said he was in a meeting and asked that an email be sent to him to which he would respond.
But by late Friday evening he had not responded to an email sent to him. It was Works Minister Robeson Benn who explained that 22 EOIs have been received so far. He added that the entity in charge of the project is in the process of putting the EOIs together after which an evaluation/assessment will be done to determine which of the respondents will be chosen.
There have long been calls for a new bridge across the Demerara River and over the past years, the 35-year-old structure has been plagued by mechanical problems. It has been pointed out that the growth in traffic has taken a toll on the bridge, which opened in 1978 and has been the major artery linking Georgetown to the West Demerara. The floating steel structure, which measures 6,074 feet (1851.4 metres), spans the Demerara River from the village of Peter's Hall on the eastern side to Plantation Meer-Zorgen on the western end.
Although it seems that a new bridge is imminent, Benn, during his presentation during last year's budget debate, said that the existing structure will have to remain open for at least the next six years.
Three locations have been shortlisted, including a location near to the existing bridge; a site at Houston, East Bank Demerara (EBD) to Versailles, West Bank Demerara (WBD); and the third at New Hope, EBD to Laurentina Catherina, WBD.
According to a pre-feasibility study, the Houston to Versailles location "is the only economically feasible alternative, providing benefits to society that can amount to some US$222 million over a 70-year life span at a capital cost of around US$264.5 million."
The study also said that "user tolls were considered to increase at a rate of 2% per year above the existing regime."
NICIL has said that the project will be implemented using a Build-Own-Operate-Transfer (BOOT) model, in a manner similar to the Berbice Bridge. It should be noted that the Berbice Bridge model has come under criticism for its high crossing tariffs. Analyst and Chartered Accountant Christopher Ram has told Stabroek News he believes it to be a grossly bad idea to use a similar model for to construct a new Demerara Harbour Bridge.
At any rate, consideration of the entities which expressed interest in being a part of the project will have to be completed before there is any further movement.
Comments

Jerry Lewis   LOS ANGELES,  (Reuters) – Jerry Lewis, the high prince of low-brow comedy on stage and in movies as well as a fund-raising powerhouse with his annual Labor Day telethon, died today of "natural causes" at the age of 91, his family said.

Beharry Automotive Limited (BAL) , the authorised distributor for Toyota parts and lubricants, says that an abundance  of imitation Toyota parts and lubricants have entered the market with the Toyota logo and trademark.

Grace Mugabe   HARARE,  (Reuters) – Zimbabwe's first lady Grace Mugabe returned from South Africa early today, state media reported, after a 20-year-old model accused her of assault in an upmarket Johannesburg hotel room.

Michael Bhopaul, 16, doesn't know if he is this year's best performer at    the Caribbean Secondary Examination Certificate (CSEC) Examinations, but with preliminary results showing that he has obtained passes in 25 subjects, he will be hard to top.

Inmates at the Lusignan Prison turned over 33 improvised weapons yesterday morning to prison authorities, who say that they also apologised to the prison staff for the unrest at the facility on Friday night.