Twenty-nine domestic violence-related murders occurred in 2013, with 21 of the victims being women and girls.
According to statistics recorded by this newspaper, the first murder was on January 16 and the last on December 31 at 23:45 hrs.
Six of the victims were children, with the youngest being eight months old and the oldest 15. In addition, two 17-year-old girls were among the victims.
In seven of the cases, the perpetrators succeeded in subsequently taking their own lives, while in two instances their at-tempts to do so failed.
Fourteen persons, one woman among them, have since been charged with murder in relation to these cases.


On January 16, 2013, Bhanmattie Devi Bacchus, 28, a mother of five was brutally hacked to death by her ex-partner in New Amsterdam, Berbice. She was lured into their home under the pretence that they would talk about reconciliation. Her ex-partner, Narendra Thakoor, killed himself by ingesting poison.
On February 6, four-year-old Jamal Nedd was stabbed to death, moments after his alleged killer had reportedly sexually assaulted a female relative in their home in Linden. Rawle Samuels, Jamal's stepfather was charged and remanded to prison.
On March 14, Samantha Bagot, a food vendor of Kildonan Village, Coren-tyne, was chopped to death at Philippi Village by her husband, Joseph Bagot, who then hanged himself.
On April 12, the decomposing body of eight-month-old Antonio Laldas was found in a home at Papi Show Landing, Mazaruni. He was killed with a nail file and his mother, Ashanti Laldas, 25, was later charged with murder.


On April 24, Shondella Samuels, 14, died at the West Demerara Regional Hospital (WDRH) after allegedly being stabbed approximately 16 times by her stepfather, Fitz Josiah at Plastic City, Vreed-en-Hoop, West Coast Demerara. Josiah was later charged with murder after he was captured by villagers.
On May 12, Maryann Sunita Nauth, 30, was discovered in the K&VC hotel, on South Road Georgetown with 35 stab wounds about her body. Her ex-husband, Vinod Balgobin, was charged with her murder.
On June 4, Geeta Bissoondyal, 27 of Albion, Corentyne was strangled to death allegedly by her husband, Ramesh Tarachand. The man was caught attempting suicide and was charged with murder.
On June 9, Shaneza Ramdat, 23, was stabbed multiple times and left to die in her yard in the Kuru Kuru Squatting Area, allegedly by her reputed husband Shameer Ali. Having botched his suicide attempt, Ali was arrested and charged.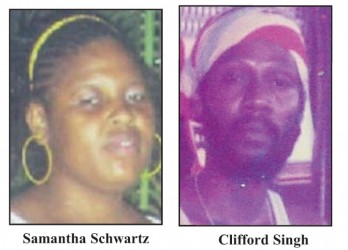 On July 31, Richard Lord went on a rampage, chopping and killing his five-year-old daughter Kimberly Houston and two-year-old son Ahmad Lord; he also severely wounded his reputed wife, Nazalena Natasha Houston at their home in Zeelugt. Lord committed suicide a few weeks later.
On August 3, Vanessa Richmond-James of Jonestown, Mahaica was slashed and stabbed to death by her husband, Ryan James, who later ingested poison.
On August 8, Angela Mc Allister, 17, of Cummings Lodge Secondary School was brutally hacked to death allegedly by her teen boyfriend, Joshua Alleyne during a visit to his home at Diamond, East Bank Demerara. She was beaten with a spade and then chopped. Alleyne has been charged with her murder.
On August 14, Clifford Singh, 35, was beaten to death with a piece of wood allegedly by his partner Dacia Bourne at Prince William Street, Plaisance, while the couple's ten-month-old baby was sleeping in the house. Bourne fled the scene and is still on the run.
On October 15, Galton Mc Almont, a Sophia farmer was chopped to death allegedly by his  stepson, Emmanuel Green during an argument over land. Green has since been charged.


Maharani Parmanand died on October 23 after she was severely beaten in her Lusignan home allegedly by her partner Reaz Fazil, who subsequently went into hiding.
Tameshwarie Naharry, 56, of Zorg, Essequibo Coast died on October 24 from first degree burns after her reputed husband, Patrick Seepaul allegedly set their house on fire.
Shanta Devi Chanderpaul, 36, died on October 31 after she was stabbed several times by her former partner on a street in Sophia on October 19.
On November 12, Sherry Ann Tiwari was found with her throat slit in a West Ruimveldt residence. Her partner Kenroy Crandon then hanged himself.
Samantha Schwartz, 35, died on December 7 after she was set on fire, allegedly by her brother Brian Heywood on November 21, during an argument over a pair of shoes that went missing from his shoe repair shop.


Siromina Lokhnauth was asleep when her husband Ramdat Lokhnauth shot and killed her in their home at Campbellville on November 23. He then committed suicide.
On November 30, Molly James, 33, and her 15-year-old son Aaron were stabbed to death allegedly by her 17 year-old stepbrother Orin Rodrigues at their home in Moblissa, Soesdyke-Linden highway. Rodrigues was charged with the double murder.
Jasmattie Dowlatram was beaten to death in lonely spot at Ankerville Port Mourant allegedly by her partner, Joseph Anthony Singh on December 6. Singh was charged with murder.
On December 12 Richard France was stabbed to death during a heated argument with his brother Neville France who had since been charged with murder.
Carl Garnett was fatally stabbed by the fiancé of his estranged wife after a heated argument on the telephone on December 15. The man, Aniki Jones, was charged with murder on December 19.
On December 23, Sookdai Basdeo, a mother of five, was knifed to death allegedly by her reputed husband, Mohammed Iqbal in her home at Tuschen, East Bank Essequibo. Iqbal was charged with murder.
Sunita Lall bled to her death from a slit throat on December 24. She was murdered in her home at Leguan, Essequibo River by her husband, Yugindra Jagdai, who hanged himself later.
Seventeen-year-old Theiana Andrews was shot dead by her spurned lover, 'Chris', in Moraikobai, Mahaicony on December 26. The man is in hiding.
On December 31 at 23:45 hrs, Carlissa Matthews, 20, of North Ruimveldt, Georgetown, was shot dead at Water Street, Georgetown. A man with whom she shared a relationship has since been taken into custody.
Comments

The Management of Cheddi Jagan International Airport Corporation (CJIAC) is currently undertaking a massive expansion project  and a Temporary Arrivals Terminal Building was recently constructed.

Tourism Minister Shamfa Cudjoe announced the decision to close the company. (Trinidad Express) The Tourism Development Company (TDC) has ceased operations.

Cevons clearing city garbage WPA STATEMENT ON THE UNRESOLVED ISSUE OF GARBAGE COLLECTION IN THE GEORGETOWN MUNICIPALITY The WPA is deeply concerned that the Georgetown City Council's inability to honour its financial obligations to Cevons Waste Management and Puran Brothers has the potential of endangering the health and lives of citizens.
British High Commissioner to Guyana Greg  Quinn  yesterday said that it was hoped that more would have been done to push the constitutional reform process forward.

A West Coast Berbice man died after he reportedly set his one-storey house ablaze sometime around 11.20 am yesterday.