Having completed five years of service on the Berbice River crossing, the Berbice Bridge Company Inc. (BBCI) on December 20, 2013 handed out long service awards.
A release from the company said that the Chairman of BBCI's Board of Directors, Keith Evelyn completed eight years of continuous service. Evelyn was followed by Omadat Samaroo, Chief Executive Officer, who has completed seven years of continuous employment with the Company. The other 12 employees have completed five years of continuous employment.
The Company has also recognized Bibi F. Alli, Administrative Assistant,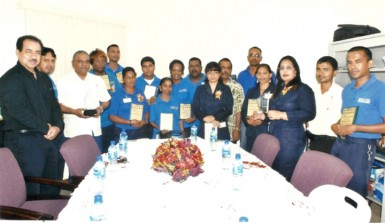 for her "outstanding dedication and contributions towards the Company such as, participating in all the Company activities, al-ways willing to work beyond the normal call of duty and being extremely focused and devoted to her job".
The release said that at the handing over ceremony Evelyn thanked the staff for their contributions over the years towards BBCI.  The release said that the Company has sponsored many events that benefited the communities both on the eastern and western sides of the Berbice River Bridge.
For the year 2013 the Company received 101 requests for donations/help and approved 94 of these.  These included  sponsorship of Mashramani 2013 Events, sponsorship of horse-racing events, donations of trophies to various non–profit and educational institutions, facilitated tours of various schools and waived toll charges for tour buses among other things.
Comments

(ICC) Antigua and Barbuda, Guyana and St Lucia were today announced by the International Cricket Council (ICC) as the venues for the ICC Women's World Twenty20 2018, which will be staged from 9-24 November.

The sugar union, GAWU today said that more sugar workers are to be made redundant.

(Trinidad Guardian) Education Minister Anthony Garcia says the University of Trinidad and Tobago (UTT) is of the view that the organisation is "overstaffed and to run the university efficiently it will mean they have to trim fat." But former Tertiary Education Minister Fazal Karim is warning that the decision to retrench 287 staff members, will "compromise the quality of teaching and learning and administration at the university," and may impact its accreditation with the Accreditation Council of Trinidad and Tobago (ACTT).

In preparation for Guyana's emerging oil and gas sector and the bustling business usually synonymous with the industry, the Pegasus Hotel is expected to undergo a huge expansion which includes office and residential rental spaces.

Police Commissioner Seelall Persaud is to resume his duties today after spending approximately six months on leave, Public Security Minister Khemraj Ramjattan yesterday confirmed to Stabroek News.