Granger pays tribute to Desrey Fox
Leader of the Opposition, Brigadier David Granger has paid tribute to Dr Granger pays tribute to Desrey Fox, née Caesar, former Minister in the Ministry of Education who died in a traffic accident on 11th December 2009.
A release from his office said that he pointed out that the Cuyuni-Mazaruni Region and the Waramadong community have lost one of its most famous daughters. He added that it was most fitting that her life be commemorated.
Granger was addressing the  memorial service held at the Queenstown Seventh Day Adventist Church,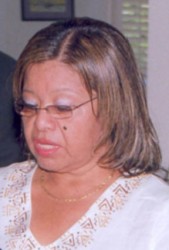 Queens-town, on what would have been  Fox's 59th birthday on Thursday 2nd January.
The release said that the service was attended by Minister of Foreign Affairs Carolyn Rodrigues-Birkett, Minister of Amerindian Affairs Pauline Sukhai, Dr George Norton, MP and members of Fox's family among others.
Following the 2006 general elections, Fox was appointed Minister within the Ministry of Education after a career in academia. Granger recommended that the present, problem-plagued Waramadong Secondary School be renamed the "Dr. Desrey Fox Secondary School in honour of the late Minister."  Not only would such a renaming be a lasting tribute to Fox but the government would be encouraged to pay greater attention to the way in which the school is managed, he said.  Fox was born and grew up in Waramadong on the Karanang River.
Most Read This Week