Leader of the Opposition, Brigadier David Granger has paid tribute to Dr Granger pays tribute to Desrey Fox, née Caesar, former Minister in the Ministry of Education who died in a traffic accident on 11th December 2009.
A release from his office said that he pointed out that the Cuyuni-Mazaruni Region and the Waramadong community have lost one of its most famous daughters. He added that it was most fitting that her life be commemorated.
Granger was addressing the  memorial service held at the Queenstown Seventh Day Adventist Church,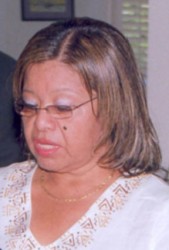 Queens-town, on what would have been  Fox's 59th birthday on Thursday 2nd January.
The release said that the service was attended by Minister of Foreign Affairs Carolyn Rodrigues-Birkett, Minister of Amerindian Affairs Pauline Sukhai, Dr George Norton, MP and members of Fox's family among others.
Following the 2006 general elections, Fox was appointed Minister within the Ministry of Education after a career in academia. Granger recommended that the present, problem-plagued Waramadong Secondary School be renamed the "Dr. Desrey Fox Secondary School in honour of the late Minister."  Not only would such a renaming be a lasting tribute to Fox but the government would be encouraged to pay greater attention to the way in which the school is managed, he said.  Fox was born and grew up in Waramadong on the Karanang River.
Comments

(Trinidad Guardian) Education Minister Anthony Garcia says the University of Trinidad and Tobago (UTT) is of the view that the organisation is "overstaffed and to run the university efficiently it will mean they have to trim fat." But former Tertiary Education Minister Fazal Karim is warning that the decision to retrench 287 staff members, will "compromise the quality of teaching and learning and administration at the university," and may impact its accreditation with the Accreditation Council of Trinidad and Tobago (ACTT).

In preparation for Guyana's emerging oil and gas sector and the bustling business usually synonymous with the industry, the Pegasus Hotel is expected to undergo a huge expansion which includes office and residential rental spaces.

Police Commissioner Seelall Persaud is to resume his duties today after spending approximately six months on leave, Public Security Minister Khemraj Ramjattan yesterday confirmed to Stabroek News.
The Alliance For Change (AFC) yesterday launched a scathing attack on the union GAWU, accusing it of decades of sabotage of the sugar industry and not genuinely representing the interests of its workers.

The importance of foot health, especially for persons with diabetes, was emphasized by Podologist Yvonne Braithwaite yesterday, when she launched the local leg of Rovon Health Care Inc, which includes a foot spa.