BV man battered, shot dead at Liliendaal
The man who was found dead at Liliendaal, East Coast Demerara (ECD) last Friday was yesterday identified by relatives as Rafael Campbell of Beterver-wagting, ECD and a post-mortem examination has revealed that he was shot several times to the head.
Crime Chief Seelall Persaud confirmed that five men have since been arrested in connection with this murder investigation after police detained a rental car the 30-year-old father of two was last seen driving. The black Premio car is also in the custody of the police. Stabroek News understands that some of the men detained were in the vehicle at the time the police intercepted it somewhere along the Linden/ Soesdyke Highway.
Police had reported that the unidentified man was found "with injuries to his head" around 11:40 hrs and was clad in a brown and black striped jersey and a ¾ blue jeans.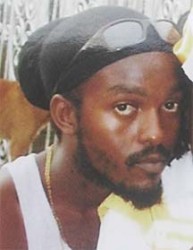 Yesterday the police said that the post-mortem examination which was performed by Pathologist Dr Nehaul Singh revealed that Campbell died as a result of gunshot injuries to the head.
Persaud, when contacted, told Stabroek News that based on the information the investigators have gathered the man rented a car and was "working hire". He said that car was recovered on last Friday night on the Linden/ Soesdyke Highway. It is unclear what prompted the detention of the vehicle as at that time police have not made a link between the car and Campbell's murder. That link, according to Persaud, was made on Sunday.
Asked if this could have been a carjacking gone bad, Persaud said he would be unable to say as investigations are still being conducted.
Campbell's sister Rushelle told this newspaper that she and her mother Carol last saw him last Thursday moments before he headed off to the Guyana Revenue Authority (GRA) office to look after his driver's licence.
When Stabroek News visited the BV area, there was a black flag was nailed on the fence of the Lot 35 Simpson Street address where he stayed.
One of his close friends expressed disbelief as the way he died. She recalled that the Saturday before he was found, Campbell was in attendance at a dance in the village and was his usually bubbly self. The woman, who asked not to be named, told this newspaper that she told him to let her know when he was leaving so that she could get a drop home. She said that was the last she saw of him.
She said that after not seeing him for two days, she became worried as this was unlike Campbell. Attempts to contact him on his cellular phone were futile as it kept going to voicemail when the number was dialed. The woman added that on Sunday night policemen suddenly appeared in the area asking for Lot 33. She said that there were several policemen and this was of concern as she saw no reason why police would be in that street.
It was when they said they had found a body and they were told that his name was Rafael that she realized that something was wrong. According to the woman, the policemen said they found some men in the car that Campbell had rented. Ranks also found a pair of female footwear at the crime scene. The shoes, this newspaper has since learnt, belonged to Campbell's girlfriend and he was supposed to have taken them to her the night before he was discovered dead.
It would appear that as part of a routine operation, the police stopped the car with the men. The ranks may have made a decision to detain them after noticing the men acting suspicious. It was after this detention that they learnt that the car was a rental. Stabroek News understands that the owner was contacted and it was at this point that pieces of the puzzle began to fall in place.
Campbell's friend said that he worked in the interior and had only returned home a week before he was killed. She explained that whenever he returned he would rent a car for his comfort and to move around. She said he rented the car for Christmas so that he could move around.
Meanwhile, Stabroek News was told that the man's body told the tale of the pain and suffering he endured before he was killed. When the body was found, friends of the man said, a rock with blood was found nearby. This, they said, was used to "bash in he face". They said that only one tooth remained in his upper gum as all were knocked out during a brutal beating. Campbell, they said, was also apparently stabbed several times in his abdomen and lower back.
The persons Stabroek News spoke with said that Campbell did not deserve to die in such a matter and those responsible should face the full force of the law. They said that he was a very friendly person who went all out for children in the area.