The Park Vue Hotel, which was officially opened on Sunday after being commissioned by President Donald Ramotar, was an investment in the making for four years, according to co-owner  Sheron Persaud.
Park Vue Hotel is located on the outskirts of the city at Farm, on the East Bank of Demerara. It is co-owned by Persaud and her husband, Robin Persaud. It is a small hotel with 32 rooms, a pool, a gift shop, a lounge, banquet hall and a conference room.
Speaking to Stabroek News in an interview, Persaud said that the hotel was built after years of research and technical advice. "It has been in the works for four years," she noted, while adding that she knew she wanted to invest in a piece of the land that was given to her but didn't know which direction to take.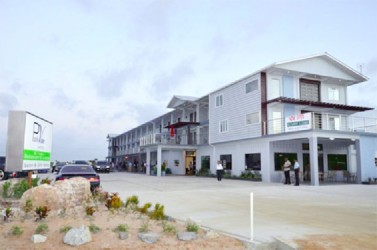 "We knew we wanted to invest and we had a few things on the table so during meetings and much research and help we made the decision to build a hotel," she explained.
"We are confident in the economy and that's one of the reason why we have invested and we have seen growth firsthand," she added, noting that it was exciting to see four years of investment and planning materialise.
"We are glad to see this become a reality and to have officials, the media and our family share that moment with us at our grand opening made us feel great," she stated. Since the hotel has been opened, she said, they have received a lot of positive reviews from customers and officials.
"This is just the beginning," she said, stressing that they had not just wanted to invest in a typical hotel but one that was unique in design and amenities. "We wanted to be a part of the beautiful array of hotels but we wanted to change the style," she added.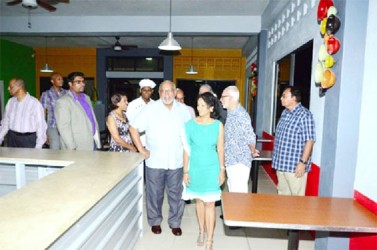 Persaud expressed confidence that tourists and customers would marvel at style of the hotel even though it is small. She said that during construction of the building she decided to make each room different from the other. "We want every time when you come to Park Vue you experience a different feel, a different style," she stated.
The design of the hotel has a contemporary North American style with touches of the Guyanese tradition. "We wanted to cater for every one so we decided to go for a signature look, a look that would appeal to every individual," she stated.
When asked about the view that there are too many hotels here and far too few visitors, Persaud said that her hotel was not limited by its size and it would stand out from among the others. "We had confidence in the economy that's why we invested," she reiterated.
"I want to think that because we are a small hotel we would be able to add those special touches…we are looking to be more personable and offer that signature touch in terms of customer services and food preparation and provide that charming feel that a customer would find in a larger environment," she added.
She said that Park Vue would not be scared away by other hotels because their research showed that it was more economical to build at Farm than in the city. "I think there is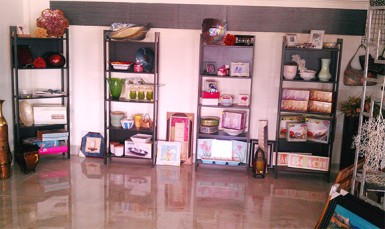 enough hotels in the city. Park Vue is closer to the airport and fifteen minutes away from the city. It's in the middle.
We are close to the stadium," she said. "This is the ideal spot for a hotel so we feel it was definitely a good choice building here."
'Challenges'
However, she added that there were some major challenges that were encountered during the construction of the building. She said that they were unable to build the hotel's fence since they were sharing the property line with the four-lane road that is currently under construction.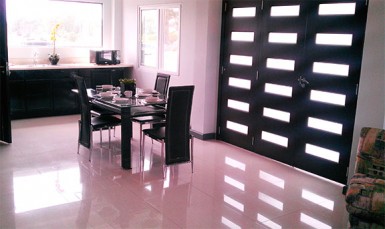 But she said that she was optimistic that the fence would be constructed by the end of the month.
"There are challenges but we are able to overcome them," she said, while adding that they were presently engaging contractors working on the road.
She added that there were other areas of the hotel that are yet to be completed. Persaud explained that rooms on the third floor would be completed by the next week while construction of the banquet hall would be finished by March. "Surprisingly we have done extremely well… we had a soft opening just to get our feet wet and we were shocked at the outcome," she said.
Persaud, however, was unable to estimate the size of the investment, stating that "We are stilling counting the dollars since it's only 80% completed." However, she stated that it was a quite sizable investment.
Presently, just under 20 persons are employed at the hotel and they are trained in customer service. She said that she was aware of too many bad customer service experiences at hotels and fast food outlets, and therefore the hotel was working hard at providing good customer service. "We had trained our employees a month prior to the hotel's opening," she related.
She said she realised the challenge to train people in developing good customer service. "We have trained our staff to greet people, form conversations and be knowledgeable about our services," she stated. "However, we are still working at tweaking things."
The Terrance Suites, consisting of a balcony and guest area for customers to accommodate visitors, is priced at US$199 per night, while the Studio Suite costs US$179 per night. A regular room costs US$99 per night. The hotel also has connecting family rooms for parents who prefer not to be separated from the children. These cost US$250 for 24 hours.
Pritipaul Bacchus, Executive Chef at the hotel, said that he had worked at various hotels across the country and had found Park Vue to have low cost but quality foods and beverages. "If you can get good food at a cheap price it will attract a larger market so as long as you have cheap food, good price and good service you can't go wrong," he said, while noting that every time a customer visits the hotel they are ensured a different experience. "Every time you come to Park Vue it will feel like your first time," he added.
Comments

UN experts condemn racist violence in U.S., urge investigations GENEVA, (Reuters) – United Nations human rights experts called on the United States today to combat rising racist violence and xenophobia and to prosecute perpetrators of hate crimes.

The twin-engine Beechcraft seized by authorities on an improvised airstrip on Sunday in the North Rupununi, Region Nine area, was yesterday confirmed as bearing a registration number belonging to an investment company in Brazil.

ExxonMobil yesterday signed a deal with Guyana Shore Base Inc (GYSBI) for an onshore support facility at Houston on the East Bank of Demerara.
While students who sat Caribbean Examination Council (CXC) exams in May and June of this year will be able to access their results online on Friday, the Ministry of Education has already announced that Guyana has recorded a 7% increase in passes at the Caribbean Advanced Proficiency Examinations (CAPE).

A post-mortem examination is expected to be done today to determine the cause of death of a nine-month-old baby, who died on Monday after she was left in a car.