Three men were yesterday refused bail when they appeared at the Mahaica Court before Magistrate Sueann Lovell charged with the murder of a Zealand, Mahaicony farmer.
The court heard that around 8:30 pm on January 4, Premnauth Seepersaud, 39, of De Kinderen; Karran Ramit, 23, of Planters' Hall and Doodnauth Sieuchand, 42, of Zealand murdered Deoroop Sieuchand, 72. Doodnauth Sieuchand is a nephew of the murdered man.
The three were also charged with robbing Ambika Sieuchand, 70, of cash and jewellery. Ambika was also badly beaten and is currently a patient at the Georgetown Public Hospital.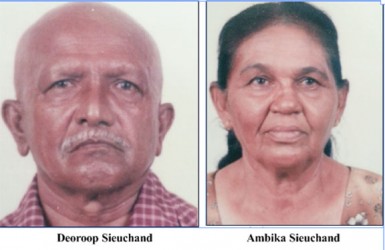 Attorney-at-law, Satyesh Kissoon entered an appearance for  Seepersaud and Doodnauth Sieuchand while lawyers, Denise Hodge and Haymant Ramdhanie represented Ramit.
Kissoon said his clients: Seepersaud, a father of two and minibus driver and Doodnauth Sieuchand, a truck driver who has one child, had no previous or pending matters before the court.
In the case of Ramit, his lawyers said he is a rice farmer and also had no previous brushes with the law.
Presenting the facts, police prosecutor, Corporal Cheryl Graham told the court that the defendants entered the home of the Sieuchands and demanded money and jewellery.
She submitted too that the men beat the couple which resulted in Sieuchand succumbing to his injuries.
The magistrate ordered that they be remanded to prison until February 5 when the matter comes up again at the Mahaicony Court.
Reports are that the couple and a 10-year-old child were watching television when they heard a sound in the upper flat. Sieuchand went up to investigate and was reportedly confronted by three men.
They had gained entry to the building through an open window using a ladder that Sieuchand used when picking coconuts.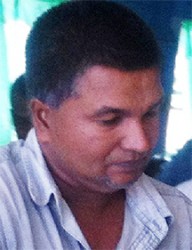 A struggle ensued between him and the men and it appeared as though he tried to seek cover in a bedroom.
But the assailants cornered and bound him and inflicted the wounds which he bled profusely from.
The child who was hiding in the house during the ordeal remained there until about 6:15 am when he left for help.
This newspaper was told that the incident may have stemmed from a dispute between families over land. The house was also ransacked and police said the couple just had a small amount of cash in the house at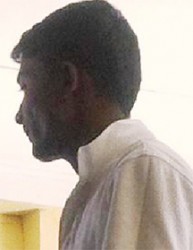 the time.
Results from a post-mortem examination proved that Sieuchand died from multiple incised wounds compounded by blunt trauma to head.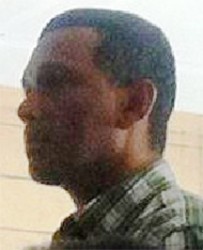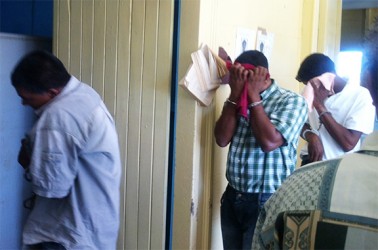 Comments
British High Commissioner to Guyana Greg  Quinn  yesterday said that it was hoped that more would have been done to push the constitutional reform process forward.

A West Coast Berbice man died after he reportedly set his one-storey house ablaze sometime around 11.20 am yesterday.

A Yarrowkabra miner was yesterday charged with the murder of a co-worker, whom he allegedly beat to death during an alcohol-fuelled clash last Saturday at a dredge site in the Potaro Backdam.
A court action was yesterday filed challenging a directive issued in the name of President David Granger to the Police Service Commission (PSC) for a hold to be placed on planned promotions this year.
UK security expert Lt Col (rtd) Russell Combe, who is working closely with the Guyana government to resuscitate the Security Sector Reform Action Plan (SSRAP), will be broadening his mandate to assess the country's prison situation.