A Kitty man is now facing a charge that he broadcast nude pictures of his former girlfriend on the BlackBerry Messenger (BBM) service after they had an argument.
David Khan, of 34 Gordon Street, Kitty, was placed on $125,000 bail yesterday, at the Georgetown Magistrates' Courts, where he was charged.
It was the police's case that sometime between November 1, 2013 and January 1, 2014, Khan knowingly exposed naked pictures of Sharice Gaskin, with whom he shared a relationship. Khan denied the charge, which was read against him by Chief Magistrate Priya Sewnarine-Beharry.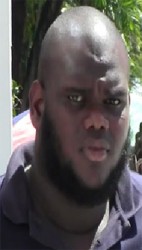 According to a report read in court by Police Prosecutor Bharat Mangru, Gaskin and Khan are known to each other and went out on several occasions. The report stated that on one of those occasions, Khan asked Gaskin to use her phone. It was then that Khan allegedly sent the photos to his phone from Gaskin's phone. Sometime after that, Gaskin and Khan had an argument and subsequently Gaskin was told that her nude pictures were spotted on BBM, according to Mangru. She reported the matter and subsequent investigations led to Khan's arrest.
Khan, at the end of the hearing, was granted $125,000 bail and the case was adjourned till January 7, 2014, when statements are expected to be filed.
Comments

The Guyana Power and Light (GPL) says that just after midday today, three armed bandits stormed its Parika Customer Service Centre; robbing the location of all revenues received up until that time, holding the  staff and customers at gun point and disarming a security guard of a gun.

The Management of Cheddi Jagan International Airport Corporation (CJIAC) is currently undertaking a massive expansion project  and a Temporary Arrivals Terminal Building was recently constructed.

Tourism Minister Shamfa Cudjoe announced the decision to close the company. (Trinidad Express) The Tourism Development Company (TDC) has ceased operations.

Cevons clearing city garbage WPA STATEMENT ON THE UNRESOLVED ISSUE OF GARBAGE COLLECTION IN THE GEORGETOWN MUNICIPALITY The WPA is deeply concerned that the Georgetown City Council's inability to honour its financial obligations to Cevons Waste Management and Puran Brothers has the potential of endangering the health and lives of citizens.
British High Commissioner to Guyana Greg  Quinn  yesterday said that it was hoped that more would have been done to push the constitutional reform process forward.