Demerara Distillers Limited (DDL) Executive Chairman Komal Samaroo says the company is in the process of training employees who will be used to help wrestle US, Canadian, and other international markets shares from the hands of more established rum producers.
Samaroo was the company's Managing Director for approximately 30 years, the last eight of which he spent building and studying international markets and marketing the El Dorado rum brand internationally.
During an interview with Stabroek News on Wednesday, Samaroo, who was handed the company's chairmanship the previous week, said that although steps have already been taken to increase sales in international markets such as the United States and Canada, DDL, under his chairmanship, will pursue this agenda more aggressively.
Bids to increase DDL's market shares internationally have produced good results. During the interview, he shared that efforts in recent years have seen DDL's overseas market grow by 23% in 2012 and he expressed confidence that growth for 2013 will be over 30%.
Canada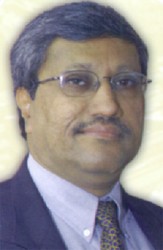 He explained that the increase in 2012 was a result of DDL breaking into all of Canada's provinces, each a separate market. DDL currently has 6 products listed in Canada's 10 provinces. Eight years ago only one product – El Dorado 5-Year-Old Rum – was listed in Ontario Province and this was as an ethnic product – one that was considered to appeal only to Caribbean people.
This classification meant that only a single bottle of the rum was placed on the bottom shelves of retail stores.
This arrangement existed because the sale of rum is controlled by provincial liquor boards and only products which are listed can be imported and sold. He explained that to get a listing is a very complicated process and most applications for listings are rejected. After a product is listed its sales volume has to reach certain minimum levels, failing which it is delisted at the producers' cost.
DDL's first move in Canada was to challenge the ethnic listing, Samaroo said rather confidently, and it successfully convinced provincial liquor boards that El Dorado 5-Year-Old is mainstream rum – has appeal to a wide cross section of people from all over the word, including Canadians.
Next, the company set out to convince regulators to list the El Dorado 12-Year- Old Rum. However, because of the retail price DDL was asking for this product—over Cdn$30—the states' liquor officials opposed the request, arguing that they were not convinced that at that price the product would attract consumers. But, the company pulled off another success story, convincing the board that EL Dorado 12-Year-Old is a high-quality product, and therefore worth the cost.
As time progressed, he continued, the company was able to permeate all 10 Canadian provinces, and has been able to get 6 of its products successfully listed in the premium and deluxe segments of the market in which low volume, high value products are listed.
The United States
Markets in the US have been a bit more complex to tap into and grow, Samaroo confessed. Similar to Canada, Samaroo explained, alcohol distribution and sales is regulated by a State Board. What is different though is that the market is based on a three-tier system, where after importing a product, a producer must then find a willing wholesaler, who is then responsible for supplying retailers.
This system presents a challenge because most US wholesalers are already tied to established brands. Samaroo said that 90% of the rum imported by the US is sourced from two of its overseas territories – Puerto Rico and the US Virgin Islands (USVI).
Puerto Rico, well known for its sugarcane production, has been producing rum since the 1500s. The country is the home to Bacardi, the world's largest privately held, family-owned producer of rums, selling more than 200 million bottles annually in 200 countries. With figures like those it is little wonder why Bacardi is the fourth-largest spirits company in the world, grossing more than $3.3 billion in 2004.
Another Puerto Rico rum brand, Captain Morgan Private Stock, is the fourth-largest brand of spirit in the US and the eleventh largest in the world. Samaroo said rum producers in Puerto Rico and the USVI benefit from government subsidies which enable them to produce high quality spirits at
low costs, thereby enabling them to sell their goods in the US at extremely competitive prices.
To compete, DDL has carved out niche markets. This enables the company to get sales despite the stiff competition, and is partly the reason why DDL saw its market share grow more in the US than any other overseas market in 2013.
Specifically, the portfolios which have increased in sales over the years are the Deluxe portfolio (El Dorado 12, 15 and 21 Years Old), and the Premium portfolio (El Dorado 3, 5, and 8 Years Old).
China
With market share in the US and Canada growing steadily, the company has set its sights on China, albeit moderately. Samaroo revealed that DDL has engaged Chinese stakeholders concerning the prospects of being able to produce rum for the Chinese market. Whatever arrangement comes out of ongoing engagements is not expected to see a significant operation set up since the Chinese are not known to consume a large volume of rum.
Samaroo said the country's population consumes a total of about 1 billion cases of spirits annually, and 100,000 of that is rum. He said research has shown that the Chinese are quite keen on sticking to Chinese-made spirits, although Whisky and Cognac have increased in sales in recent years.
India
DDL's experiences in India are probably its only stain in what seems to be a successful bid to expand international markets. For the last decade the company was involved in a joint venture operation with Hyderabad, India for the production and distribution of rum. The venture, which failed miserably, ended last year. Although India is the largest volume rum consumption country in the world the prices are extremely low and the tariff on imports are extremely high.
Analyst and Chartered Accountant Christopher Ram, in an article on the company's 2012 Annual Report, labelled the venture "a misfortune from day one." Reason being that the south Indian state in which the venture was set up is a dry state – a state which forbids the production of alcohol.
Ram's article, in part, read: "DDL's investment in the JV is $267 million. The company's share of the JV's assets is $674 million but the revenue generated by those assets attributable to the group is $16.2 million while the group's share of losses is $31.2 million. Caution is advised since Note 21 shows the share of income attributable to the group as $4.3 million and losses of $24.8 million."
It continued, "But here is what is troubling. The group's share of liabilities of the Joint Venture is $535.6 million, a major exposure with potentially costly consequences. If, as seems desirable, the JV is brought to an end, the fact that it has not been operating will affect the price which any buyer will pay, whether in a voluntary sale or in a liquidation. The directors, among whom are four professional accountants and an attorney-at-law, can no longer afford to dither."
Samaroo said yesterday that because of the changes in tariffs the company has changed its business in this market. Following the end of the joint venture agreement last year, the company has opted not to renew it but instead to ship products from Guyana to India markets. He said that now is a good time to adopt this method since India has started decreasing tariffs on rum and other products. He continued that a pilot shipment has already been shipped to India, but that the products have to be tested by India's authorities before it goes into circulation.
Samaroo attributed the failure of the joint venture to the language barrier, and the difficulties associated with managing the operation in India from Guyana. He said DDL depended entirely on its partners in India to run the operation.
Outlining the company's overall performance through its overseas subsidiaries, Ram noted that "sales by the European subsidiaries increased by 21% but margins fell from 7.6% to 4.9%; for the USA sales increased by 17.8% but the margin declined from 8.8% to 7.7%; for Canada the increase in sales was 6.7% but the margin increased from 27.1% to 38.8%; St Kitts' sales increased by 48.0% and its margin increased from 23.9% to 26.1%. India was referred to as beyond an enigma."
Topco
The company's operations on the home front have also produced mixed results. Topco, a $500 million fruit juice company launched back in 2004 has not been doing as well as the company would like. In his article, Ram said, "the company reported a $16.4 million profit in 2012, an identical mirror of the loss it reported in 2011." He continued that "since the large investment the company has made a cumulative loss of $17.2 million. Even if the profit in 2012 signals a change in the fortunes of the company, the time for satisfying any reasonable test of payback period has long passed."
Samaroo, who admitted that the Topco plant is struggling, explained that it is the juice beverage sold in the tetra pack which is really suffering. He attributed the product's poor performance over the year to competitive pressure by other products, cost of packaging, and the seasonal nature of fruits.
Some of the fruits needed to produce the juices are not produced all year round. Further, other juice drinks such as Fruta, which is imported from Trinidad and Tobago, continue to outperform their Guyanese counterpart. Despite the issues though, he said that efforts are still being made to make improvements. Meanwhile, the Topco product sold in the bottle, Samaroo said, continues to do very well.
  Biomethanisation  Plant
Another positive area for DDL is its Biomethani-sation plant. The plant was unveiled in 2010 and the company anticipated that by converting the waste it produced at the distillery into fuel, it could save 70% to 80% of the oil used in the production of its projects. More than reduce dependency on expensive fossil fuel though, the company said that it was eager to reduce the impact it makes in the environment.
Samaroo, although he did not provide figures, said the plant has since cut DDL's dependency on fossil fuel tremendously. Not having to purchase as much fossil fuel means lower production costs which, by extension, translates to higher profits for the company. In many ways, he said, the plant has helped improve the efficiency and capacity of DDL.
Molasses
Molasses is a primary ingredient in the production of rum and all of the molasses supplied to DDL comes from GuySuco. Incidentally, molasses is a by-product of sugarcane, and with sugarcane production levels reaching an all-time low last year it is safe to assume that amount of molasses produced may also decrease. But Samaroo said the GuySuco issue does not pose an immediate threat to the company. He said that DDL takes about 2/3 of the molasses produced by the sugar company, which means that a third of the molasses produced is still available. As such, he said, while DDL has contingency plans to acquire molasses overseas if needed – from Central and South American producers – he hopes these plans will not have to be used.
Alcoholism
Samaroo also spoke of DDL's commitment to fighting alcohol-related issues in Guyana. He expressed his view that while it is not the responsibility of a private company to provide safeguards against ails such as alcoholism, DDL recognises its social obligations and has taken some steps to mitigate alcoholism.
He said that for several years now the company has been battling with retailers to get them to stop selling their products to minors. Unfortunately, he explained, several retailers have been reluctant to get onboard with the initiative since many persons usually send their children to buy alcoholic beverages for them, while many retailers permit their children to sell alcohol to customers. He said that DDL is nevertheless committed to making the initiative a success, and is working towards launching other initiatives, although he did not say what they were.
Comments
British High Commissioner to Guyana Greg  Quinn  yesterday said that it was hoped that more would have been done to push the constitutional reform process forward.

A West Coast Berbice man died after he reportedly set his one-storey house ablaze sometime around 11.20 am yesterday.

A Yarrowkabra miner was yesterday charged with the murder of a co-worker, whom he allegedly beat to death during an alcohol-fuelled clash last Saturday at a dredge site in the Potaro Backdam.
A court action was yesterday filed challenging a directive issued in the name of President David Granger to the Police Service Commission (PSC) for a hold to be placed on planned promotions this year.
UK security expert Lt Col (rtd) Russell Combe, who is working closely with the Guyana government to resuscitate the Security Sector Reform Action Plan (SSRAP), will be broadening his mandate to assess the country's prison situation.