Frustrated by her search     for someone experienced, trustworthy and reliable enough to care for a sick family member, Elwyn Boyle realised that Guyana lacked an organised home nursing care service and decided to do something about it.
Her experience led her to create the Essential Care Agency, which is the first structured home care institution in Guyana to provide personal care for the elderly, disabled or mentally unstable.
The agency, which was birthed in October of last year, has focused predominantly on providing personalised home nursing care to elderly people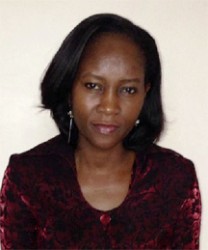 who are unable to care for themselves. It also provides home care for persons recovering from an illness and care for children through the enlistment of nurses and care assistants.
"We provide services to every elderly person, or disabled or people with mental health issues," Boyle, the Chief Operations Officer, said.
In an interview with Stabroek News, Boyle, who is a College Guidance Counsellor in Essex, United Kingdom and a graduate lawyer, said that idea for a home care agency plagued her after a close elderly family member became sick. "The company started through my own personal experience of trying to find someone that is trusted, experienced and reliable to perform care functions at home for my loved one," she said.
Boyle opined that the company would provide Guyana with a higher level of hospitality care because it gives people the advantage to remain in the confines of their homes instead of being placed in an elderly home.
"We provide reassurance to families who are struggling to care for a loved one when they need a break or need to work and have to leave that loved one alone at home," she added. The agency has also generated employment for persons, especially women who were in need of flexible jobs, she noted.
Boyle said that clients would call or send emails expressing interest and a staff member would visit the client's home and formulate a risk assessment of the patient to determine the level of care needed. "From that assessment, we would formulate a care plan which would be individualised to fit that client's needs," she explained.
The company offers hourly rates for the care assistants assigned. "The cost varies as we have different packages. We have our hourly rates for individuals within the Level 1 to 2 category of care," said Boyle.
Level 1 to 2 home care services is for patients with basic or low care needs, she said, while adding that prices vary between $700 and $1,100 per hour. Patients within the Level 3 and 4 home care categories are patients with intermediate and high care needs. She said that prices for the nursing care for these categories depend on what is required of the nurses and the level of need of the patient.
"However, we assure you that the cost for our services is very affordable," she stated.  She said that she and other members of the company have tirelessly reviewed their service prices to make it affordable. "…A company that is affordable and would do all the hard work.
We match the care assistants to all clients based on experience and personality," she explained. She also noted that all her staff members are screened and trained in care service and she was confident that they would perform beyond what is expected.
Currently, Boyle said, there are over 12 nurses and seven care assistants employed. "There is an increased demand for quality health care at home, especially for working families and we desire to meet that need by offering quality care," she noted.
"Our main aim is to strive for excellence in the health care sector of Guyana because we believe that good enough is not good enough," she emphasised.
Boyle reiterated that her team of nurses was trained to the company's specification and qualified to the best of standards. "So you can expect nothing but the best from us. If not, then the first session is free," she said.
The agency can be contacted at essentialcarespecialist@gmail.com and at telephone numbers 684-2418 and 679-8044.
Comments

A police officer helps evacuate people after a van crashed into pedestrians near the Las Ramblas avenue in central Barcelona, Spain August 17, 2017.
A post-mortem examination is expected to be performed on the body of housewife Janice Edwards, 38, of 121 'C' Field, Sophia, ECD, to determine the cause of her death.

A sketch of the proposed Curepe Interchange (Trinidad Guardian) China Railway Construction Corporation (CRCC) has been awarded a $221.7 million contract by the National infrastructure Development Company (Nidco) to build the controversial Curepe Interchange, the state company's chairman Herbert George has confirmed.

Legal Advisor to the Police, retired Justice of Appeal, Claudette Singh yesterday testified that there was insufficient evidence in the allegation made by Andriff Gillard of an alleged plot to assassinate President David Granger.

Today at 2 pm the 30 councillors of the Georgetown City Council will once again cast a vote on the future of metered parking in the city and several of them have told Stabroek News that they want to be sure their vote accurately represents a mandate from residents.