A strong trail of circumstantial evidence is pointing to the killer of Pomeroon businesswoman Judith D'Oliviera, according to her distraught relatives, who are criticising what they see as the "poor" police investigation so far.
"There is a trail of strong circumstantial evidence which could build a case against the main suspect but we have seen no sign of any interest in this information. We have been on the ground gathering information since Judith disappeared and we need the police to help us out here," a relative of the dead woman told Stabroek News on Friday.
But a source knowledgeable about the investigation has disclosed that the information gathered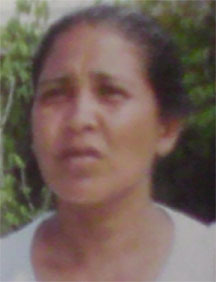 so far by investigators has been forwarded to the city for advice on how to proceed. At the same time, the main suspect, who was held twice, is reporting to police daily after being released on his own recognisance.
D'Oliviera had been reported missing on December 26, 2013 and her decomposing body was found in a clump of bushes near Dredge Creek Health Centre, Upper Pomeroon River on January 6. Relatives formed a search party after she had disappeared and following days of gruelling searches her body was located in the remote area.
She had been stabbed in the chest, her hands and feet were broken, her eyes had been gouged out, and her body bore marks of a vicious beating. An autopsy revealed that she died from the stab wound.
"This was no ordinary murder. This was a brutal murder, and it seemed very personal. We know she suffered a lot before she died and we will not rest until the person responsible is placed before the courts," the relative said.
The last week has been frustrating for D'Oliviera's relatives who had travelled to Pomeroon to join the search party. They started digging into her life a little closer since she disappeared and stumbled upon what they described as strong circumstantial evidence linking the main suspect to the case. For example, the relatives recalled that they had found her Bible at the home she shared with the suspect in the Pomeroon a few days after she went missing. Yet, when her body was found the Bible was a few inches away.
"How could her Bible be in the home a few days after she went missing and then it turns up next to her body when we find her? How did it get there?" the relative questioned.
She also questioned whether the police made any attempt to take statements from persons in the Charity area who saw D'Oliviera being dragged through the streets of Charity by the suspect on the day she disappeared. The woman had gone to the Charity Police Station to report a domestic issue but was reportedly locked out of the station because the officers believed she was suffering from a mental breakdown.
Relatives had confirmed that D'Oliviera was mentally ill but according to them, she only had occasional episodes; usually after she was beaten by her partner. They said she managed a business in the Charity area and had assets, but was in an abusive relationship.
"People make mistakes… She made a mistake when she got involved with a man who was violent and has a history of violence. We talked to her about it but she struggled to find a way out and now she is dead," the relative related.
The relative said too that D'Oliveira's clothing which she was last seen wearing on December 26 was found at her Pomeroon home. In addition, a few days after she went missing sawdust was strewn downstairs of the home and when relatives questioned why this was done they were told it was because of the rains. They have rejected this, saying the home is a potential crime scene and should not have been tampered with.
"We are completely shattered by her death, by the lack of police interest in the case and by how crucial evidence has been disregarded. Women are being murdered every day in this country and families have to wait years for justice," the relative said.
She said the family has since learnt that the main suspect had been previously arrested on a murder charge but was freed after no body was ever found. According to her, the police insisted that D'Oliviera's body had to be found before a case could be made out against the suspect. On two occasions, the police led the search party, but after the lead investigating rank journeyed to the city, relatives were forced to keep the search going without them.
"Well we found the body. We searched for days to find her and we did, but is there a case? We even did our own little investigations and still, no case. What more do we have to do before we get justice for Judith?" the relative added.
Police had arrested the main suspect when D'Oliveira went missing and again after her body was found but released him saying there was no hard evidence linking him to the murder and also no eyewitness.
According to the source, the relevant statements were taken and investigators returned to the area last weekend to continue the probe. A team of investigators from the city also travelled to the Pomeroon to assist the Charity police with the case.
Comments

In preparation for Guyana's emerging oil and gas sector and the bustling business usually synonymous with the industry, the Pegasus Hotel is expected to undergo a huge expansion which includes office and residential rental spaces.

Police Commissioner Seelall Persaud is to resume his duties today after spending approximately six months on leave, Public Security Minister Khemraj Ramjattan yesterday confirmed to Stabroek News.
The Alliance For Change (AFC) yesterday launched a scathing attack on the union GAWU, accusing it of decades of sabotage of the sugar industry and not genuinely representing the interests of its workers.

The importance of foot health, especially for persons with diabetes, was emphasized by Podologist Yvonne Braithwaite yesterday, when she launched the local leg of Rovon Health Care Inc, which includes a foot spa.

All local and international bidders for government contracts are being asked by the National Procurement and Tender Administration (NPTA) Board to complete a NPTA Supplier Registration form to obtain a registration number which they can use on bidding documents for quick database referencing.