A former cane harvester of Port Mourant, Corentyne, Berbice was yesterday sentenced to ten years in prison for killing his wife of over 20 years.
Kumar Ranjisingh, 46, who previously appeared before the High Court in Berbice on Tuesday last, expressed remorse and pleaded for mercy.
He was charged with the July 2010 murder of his then estranged wife Yashpattie Samaroo, 43, to which he pleaded not guilty. He later pleaded guilty to the lesser count of manslaughter.
According to evidence presented, Samaroo had an incised wound on her neck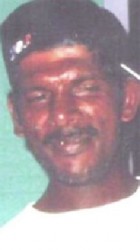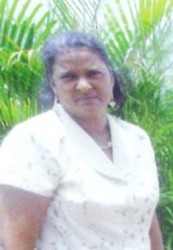 and several other injuries about her body.
After his guilty to manslaughter plea was accepted, sentencing for Ranjisingh was deferred as his attorney Kim Kyte-John requested a probation report.
According to the report read by Probation Officer Claudia Munroe yesterday, Ranjisingh "was a hard-working individual," but became "abusive when under the influence of alcohol which was a weekly occurrence," when he collected wages.
Kyte-John told the court that both the accused and his wife tried to seek help from the Welfare Department for their marital problems.
It was also stated that both parties were patients of the National Psychiatric Hospital, Fort Canje. Kyte-John argued too that the doctor's evidence suggested that the injuries Samaroo sustained could have been self-inflicted.
State Prosecutor Renita Singh stated that on July 23, 2010 15:30 hrs, Ranjisingh gave a caution statement. He said he saw his wife going to the shop with their daughter Amanda Singh who was nine at the time. The defendant stated that while they were waiting at the shop to be attended, he started to plead with his wife to return home with him. However, he said, Samaroo became physically abusive and took out a knife which resulted in them having a scuffle. They fell to the ground and Ranjisingh said that when he got up he saw his wife, Samaroo, bleeding profusely from her neck.
Meanwhile, when given the opportunity to address the court, Ranjisingh said he had been baptized and was very remorseful for his actions. He further asked the court to have mercy on him.
Justice Diana Insanally took several factors into consideration in handing down sentence. She noted the fact that psychiatric help was sought as well as help from the Probation Department.
She started off with 17 years and deducted two years for the guilty plea, three and a half years for the time spent on remand and one and half years for mitigating factors.
After the sentence was handed down Ranjisingh thanked Justice Insanally.
Samaroo had reportedly endured 20 years of abuse before she finally decided to leave Ranjisingh.
Her brother had told this newspaper back in 2010 that the man, unable to deal with rejection, had constantly stalked Samaroo.
Just three weeks prior to her death, he had gone to her mother's house where she was staying and threatened to kill her. After knifing her to death, he went back to his home and attempted to take his own life. Police had gone into the house and discovered him hanging with a rope around his neck in his bedroom. They cut him down and took him to the New Amsterdam Hospital. He was later transferred to the Georgetown Public Hospital and was charged after he recovered.
Comments

A section of the Kitty Public Road is to be closed from Wednesday as the Ministry of Public Infrastructure steps up road works in the area.

Anil Nandlall Former Attorney General Anil Nandlall today rejected an explanation by Minister of State, Joseph Harmon over the government's directive to the Police Service Commission to halt promotions.

The improvised weapons (Prisons photo) Prison Staff this morning with the support of the members of the other services, reported for duty at the new holding area lusignan Prison.

Nicolas Maduro CARACAS/LIMA, (Reuters) – A group of 12 regional nations plus the United States rejected Venezuela's new government-allied legislative superbody, saying they would continue to regard the opposition-controlled congress as the country's only legitimate law maker.

Eighteen prisoners at the Lusignan penitentiary were being treated for injuries last night following a reported attempt to kill a fellow inmate during which warders fired shots.