Amidst glowing tributes, veteran broadcaster and former Deputy General Manager for the Guyana Telephone and Telegraph Company (GT&T) Terence Ormonde Holder was yesterday laid to rest.
Holder, 73, passed away at this Lama Avenue, Bel Air Park home on January 8, after a brief period of illness.
Yesterday, hundreds turned up at the St. Andrew's Kirk to pay respects to a man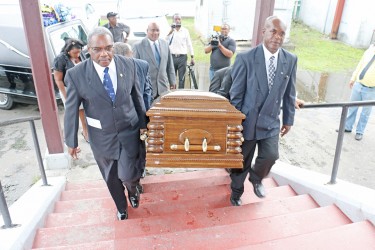 who many said had left an indelible impression on all who knew him.
Delivering the eulogy was his daughter Dawn Holder, who said that her father died with them present at his bedside. Tributes were also given by his grandson, Kevin Alert and son, Duane Holder.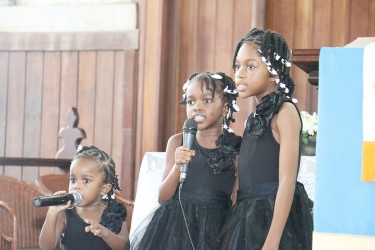 Senior Vice President of the Georgetown Chamber of Commerce and Industry (GCCI) Lance Hinds said that Holder will be remembered as an intellectual and also acknowledged that he played a great role as a mentor and in offering valuable advice.
Hinds said that Holder, who was with the organisation for close to ten years, was instrumental in helping the chamber craft relationships with stakeholders. He also said that Holder was "a respected voice of calm and peace" and that Guyana has lost one of its most committed sons.
In another tribute, Ivor O'Brien of the Rotary Club in Guyana lauded Holder for his great contribution in the club. "…He was a dedicated Rotarian, a Rotarian to the bone."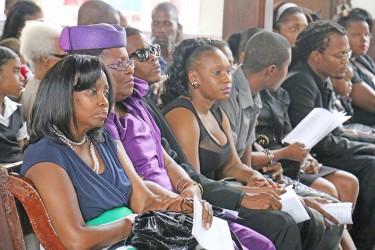 O'Brien described Holder as "effervescent, cheerful, courteous and ambitious" and as someone who was composed and organised. He said that with the passing of Holder, the club has lost a good Rotarian and the world has lost a good person. Ramesh Dookhoo, of the Private Sector Commission, said that the death of Holder, "hit us like a punch to the stomach" and that Holder left an indelible mark on those who knew him and that he was a good friend to many.
"We and, in fact, all of Guyana has lost an extremely valuable re-source. He had the uncanny ability to think outside of the box," he noted.
A representative of GT&T noted that the contributions made by the past deputy manager were significant while also stating that he helped to transcend the growth of communication.
She said that he always represented the company with distinction and was always concerned about customer service.
Meanwhile, a longtime friend of Holder, Brij Parsnauth remembered Holder as one of the greatest sports enthusiasts who always proved himself as a man of principle. He also asserted that Holder was to be remembered as the "godfather of sports broadcasting in the Caribbean."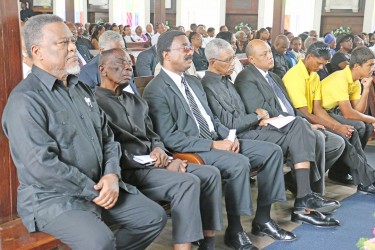 Also present at the funeral was Holder's favourite cricketer, Shivnarine Chanderpaul and his son Tagenarine, Opposition Leader David Granger, Speaker of the National Assembly Raphael Trotman and APNU MP Basil Williams.
Following the service, Holder was buried at the Le Repentir Cemetery.
Comments

Farha Faiz, a lawyer, speaks with the media after a verdict for the controversial Muslim quick divorce law outside the Supreme Court in New Delhi, India August 22, 2017.  

Defeat Tallawahs by 37 runs Chris Gayle, playing in his 50th CPL match, produced his 63rd T20 fifty as St Kitts & Nevis Patriots cruised past Jamaica Tallawahs by 37 runs to guarantee a place in the playoffs for the first time in their three-year history.

The Guyana Football Federation (GFF) has officially selected the Boys and Girls teams which will represent the nation at the Inter-Guiana Games (IGG) Goodwill Series scheduled for Suriname from the August 25th– 27th.

The Commission of Inquiry (CoI) into African ancestral land ownership began hearings yesterday with a significant portion of the first day's proceedings being dedicated to questions pertaining to the allocation of lots in the controversial 'Pradoville 2' Housing Scheme.