The investigation into the death of four-year-old Jaden Mars at the Georgetown Public Hospi-tal in December has not found anyone culpable, according to Chief Executive Officer Michael Khan. Khan was responding to a question during a press conference held yesterday. He told the media that the investigation had been completed. He said he had met the child's mother and the anaesthesiologist and certain issues which were discussed would be taken to the hospital's board for guidance.
Asked if the anaesthesiologist was still on the job, Khan questioned how that could be asked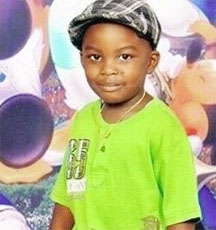 when the investigation did not blame anyone.  "We have this habit of looking for people's head. We must not look at that. We must examine all sides," he said.
Mars died on December 11 last, after he was admitted to the Georgetown Public Hospital; he had fallen and bitten his tongue. Mars was reportedly given more than one dose of an anaesthetic in an attempt to suture his tongue. He subsequently had multiple heart crashes.
Meanwhile, as it relates to the $4.1 million fraud investigation, Khan said the hospital has completed its probe and the matter was in the hands of the police. He added that the Finance Director and the Accounts Clerk are still on administrative leave.
The money could not be accounted for during an audit in September last.
Comments

Wijeyadasa Rajapakshe   COLOMBO, (Reuters) – Sri Lankan President Maithripala Sirisena today sacked the justice minister over his criticism of a $1.1 billion deal, signed last month, to lease a port to a Chinese company, the cabinet spokesman said.

NEW YORK,  (Reuters) – Two Harvard University researchers said in a study published today they had collected scientific data proving Exxon Mobil Corp made "explicit factual misrepresentations" in newspaper ads it purchased to convey its views on the oil industry and climate science.

In the wake of rising bad loans and a massive alleged fraud against it this year, the Guyana Bank for Trade and Industry (GBTI) has posted an unaudited net after tax profit of $603m for the first six months of this year compared to $961m in the same period for 2016.

Vamanadev Hiralall, of the privately-run Saraswati Vidya Niketan (SVN), is the country's top performer at this year's Caribbean Advanced Proficiency Examinations (CAPE) after achieving an accumulated 13 grade one and 3 grade two passes.

Twenty-six students in the top one percent of the 12,684 who sat this year's Caribbean Secondary Education Certification (CSEC) examinations earned 12 or more Grade I passes, with half of them, including the top performer, coming from Queen's College (QC).