The Donald Ramotar administration and the United States government are preparing for dialogue on the USAID-funded $300 million Leadership and Democracy (LEAD) project and discussions are expected to centre on whether implementation of the project will be put on hold as talks continue.
Diplomatic observers have pointed out that before agreeing to the halt on implementation, which is being sought by the Ramotar administration, the United States should set a timeframe for the project's completion and also make provisions for a way forward should there be deadlock on any changes proposed to the project's components.
"The government's pre-condition for talks raises alarms. Who is to say that this is not just a ploy to put the project on an indefinite hold… then they could be talking one year, two years and before you know it another election is upon us and no programme," one diplomat told Stabroek News.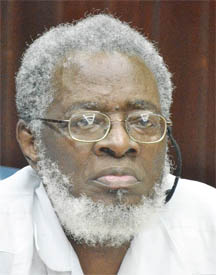 Though it had first rejected the project, the administration later signalled that it is prepared to have talks on it but remains adamant that a pre-condition for its participation must be that the project be put on hold.
Head of the Presidential Secretariat Dr Roger Luncheon on Wednesday told Stabroek News that talks will likely commence soon and efforts were being made to schedule meetings after the US Ambassador arrived back in the country last Thursday.
"We have taken a simple position—Were we to engage in any form of a genuine engagement, about the way forward, it cannot be under duress," he said.
His comments on Wednesday echoed his earlier position where he said the government would not discuss a project and its implementation while it is being implemented.
Luncheon believes that a compromise will be reached as he referred to the amicable relationship of many years shared between the two countries. "I think if we start out across the table dealing with project proposals and discussing it, in what we consider a truly bilateral spirit, we will come up with an agreement we could live with," he said. Another diplomat explained that during discussions it should be agreed that not all aspects of the project should be put on hold and the Ramotar government should state, with clarity, which elements of the project it has issues with. "The remaining non-contentious components can be implemented even as talks were ongoing," the diplomat said.
Luncheon in December said that some areas of concern included the possibility that political parties could receive financial support through the project—an assertion denied by the US Ambassador Brent Hardt. Luncheon stressed that the laws of Guyana do not provide for state funding, much less foreign funding. "There is nothing like that in the law or in the practice. The Americans came in this project and invited what is a profoundly sensitive issue that has not been dealt with by this government or governments as far back as the day from independence—public support for political parties. That, indeed, represented a usurpation of our authority," he had stated.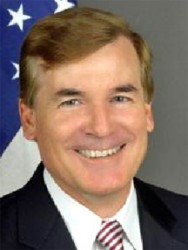 Another area of concern, he claimed, is that the project supports activities for the formulation of policies that may lead to constitutional reform. "We don't amend the constitution that way. I don't call in America to help us to amend the constitution. And activities that address constitutional important roles and activities obviously can become part and parcel," he added.
Hardt had stressed that there has been misinformation in some sections of the media that the project will give financial aid to political parties. "We want to make clear that we do not provide funding to parties," he said. This was also stated in a correspondence to the Presidential Secretariat Head.
"The programme will not provide financial assistance to parties. In fact, existing legislation prohibits the use of US government direct funding of political parties. It will provide capacity building support in an open and transparent manner to all parties in the context of their parliamentary engagement," the correspondence stated.
Both A Partnership for National Unity and the Alliance For Change have gone on record as saying that while they were consulted on the project, they were never given or offered any finances nor did they expect any.
Comments

Michael Bhopaul, 16, doesn't know if he is this year's best performer at    the Caribbean Secondary Examination Certificate (CSEC) Examinations, but with preliminary results showing that he has obtained passes in 25 subjects, he will be hard to top.

Inmates at the Lusignan Prison turned over 33 improvised weapons yesterday morning to prison authorities, who say that they also apologised to the prison staff for the unrest at the facility on Friday night.

Well known Berbice attorney Chandra Sohan was arrested on Friday after he allegedly struck a pedestrian in a hit and run accident along the Williamsburg Public Road.

For a little more than an hour yesterday, the streets outside the Mackenzie Market rang with the voices of dozens of Linden residents who turned out to support a march against homosexuality.
The woman killed during the violent storm in Jawalla, Region Seven on Friday, has been identified as a mother of two, who was seven months pregnant.