A 17-year-old was early yesterday morning shot and injured outside the Palm Court Night Club on Main Street.
The teen has since been identified as Joseph Johnson, son of the owner of Nigel's Supermarket, Nigel Johnson of Queen Street, Kitty. He has been admitted to the Balwant Singh Hospital where he was scheduled to undergo emergency surgery.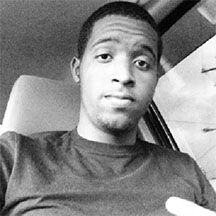 Police in a release said that at about 04:30hs a patron at a night spot on Main Street, Georgetown observed a man attempting to break into his motor vehicle and discharged a round from a firearm at the man. According to the police, the man missed and the bullet struck Johnson to his face.
However, several sources said that this was not the case, but that the two were having an argument when the man fired a round at Johnson, which struck him in his face.
Investigations are in progress.
Comments

SYDNEY,  (Reuters) – England's Jos Buttler struck a belligerent unbeaten 100 to set up a 16-run win over Australia in the third one-day international on Sunday, as the touring side took an unassailable 3-0 lead in the five-match series.

The Public Procurement Commission (PPC) hopes that by the end of this year debarment legislation would be in place as it will soon begin meeting with stakeholders on a draft.

A bill to provide a legal framework for the protection of witnesses was passed without amendment by the National Assembly on Friday evening despite arguments by the parliamentary opposition that it failed to take into account modern challenges.

The ownership of over $7 million in local and foreign currencies and several vehicles that were all seized during a raid by the Customs Anti-Narcotics Unit (CANU) at Soesdyke, East Bank Demerara on Friday has raised questions and a separate probe is expected to be launched.

Weeks after its major oil find at the offshore Ranger-1 well in the Stabroek Block, ExxonMobil's local subsidiary is preparing to begin drilling at the Pacora-1 well site in the same area.