ChildLink yesterday signed an agreement with the European Union (EU) for a €200,000 grant for its 'Empowering Children in Difficult Circumstances' project.
According to a press release, the grant will be funded from the European Instrument for Democracy and Human Rights (EIDHR) 2012-2013 country allocation for Guyana.
The overall objective of the project is to strengthen policies, practices and approaches to ensure social welfare services to prevent and protect 12,650 children from sexual violence by December 2015. Further, the activities foreseen under the grant supplement work done already by ChildLink under two previous grants totalling €180,000, which were funded from previous EIDHR Call for Proposals put out by the EU Delegation in Guyana, the release noted.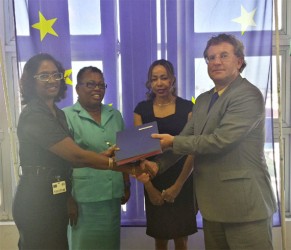 EU Ambassador to Guyana Robert Kopecký said at the signing: "The rights of vulnerable groups, especially children are particularly important in this regard and the ChildLink proposal convinced us. We look forward to a successful implementation that we perceived to be fully complementing the Government of Guyana's priorities, activities and intervention in this area."
He noted that human rights are one of the core values of the EU and its member states going like a silver thread though its many, if not all activities.
According to the release, Programme Director of ChildLink Omattie Madray explained that the project seeks to protect children, specifically children who are at risk of sexual violence through the Tell Campaign and children who have been sexually violated, through comprehensive services in three child advocacy centres.  She said the initiative was developed in partnership with the Ministry of Human Services' Childcare and Protection Agency, Forward Guyana and ChildLink and funded by the European Union, UNICEF and other local donors. "The European Union grant will over the next two years staff and equip the centres, build the capacity of the staff and increase advocacy to stop the abuse of children," the release quoted her as saying.
ChildLink, an NGO established in 2009, has as its mandate to work with its partners towards a Guyanese society where every child has the right to grow up in a safe and secure family and community.
The EIDHR is a self-standing financing instrument that provides assistance for the promotion of democracy and human rights worldwide and specifically aims at assisting civil society to become an effective force for political reform and defence of human rights, the release noted.
Comments

Wijeyadasa Rajapakshe   COLOMBO, (Reuters) – Sri Lankan President Maithripala Sirisena today sacked the justice minister over his criticism of a $1.1 billion deal, signed last month, to lease a port to a Chinese company, the cabinet spokesman said.

NEW YORK,  (Reuters) – Two Harvard University researchers said in a study published today they had collected scientific data proving Exxon Mobil Corp made "explicit factual misrepresentations" in newspaper ads it purchased to convey its views on the oil industry and climate science.

In the wake of rising bad loans and a massive alleged fraud against it this year, the Guyana Bank for Trade and Industry (GBTI) has posted an unaudited net after tax profit of $603m for the first six months of this year compared to $961m in the same period for 2016.

Vamanadev Hiralall, of the privately-run Saraswati Vidya Niketan (SVN), is the country's top performer at this year's Caribbean Advanced Proficiency Examinations (CAPE) after achieving an accumulated 13 grade one and 3 grade two passes.

Twenty-six students in the top one percent of the 12,684 who sat this year's Caribbean Secondary Education Certification (CSEC) examinations earned 12 or more Grade I passes, with half of them, including the top performer, coming from Queen's College (QC).