New attorney Keisha Hiles was admitted to the Guyana Bar on January 3 before Justice Roxane George with her petition was presented by Christine McGowan-Grant and witnessed by family and friends.  A release said Hiles received her early education at the St Gabriel's Nursery and Primary Schools, then went to North Georgetown Secondary School and wrote her CSEC Examinations. She then enrolled at The Bishops' High School where she successfully completed the Caribbean Advanced Proficiency Examination in Caribbean Studies, Communication and Law.
She gained admission to the Law programme at the University of Guyana and graduated with a Bachelors of Law degree with credit. After a year's break, she commenced her tenure at the Hugh Wooding Law School in Trinidad and Tobago and obtained her Legal Education Certificate in 2012. After graduating from Law School, Hiles joined Caribbean Associated Attorneys (CAA) in September 2012 as an associate barrister/solicitor and was admitted to practice in Anguilla in November 2012. She currently practices both civil and criminal law and is also a member of the Anguilla Bar Associa-tion.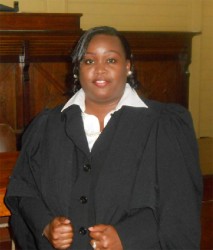 McGowan-Grant urged Hiles to continually seek ways to give back to society and to use the law to help those in need who may not be able to afford legal services. Hiles extended thanks to Justice George for hearing her petition and to McGowan-Grant for presenting it. She also thanked the Partners of CAA, Courtney Abel and Eustella Fontaine for making her an associate of their firm. She expressed gratitude to her parents, Mr and Mrs Winston Hiles and to several other persons for their support and kindness.
Comments
British High Commissioner to Guyana Greg  Quinn  yesterday said that it was hoped that more would have been done to push the constitutional reform process forward.

A West Coast Berbice man died after he reportedly set his one-storey house ablaze sometime around 11.20 am yesterday.

A Yarrowkabra miner was yesterday charged with the murder of a co-worker, whom he allegedly beat to death during an alcohol-fuelled clash last Saturday at a dredge site in the Potaro Backdam.
A court action was yesterday filed challenging a directive issued in the name of President David Granger to the Police Service Commission (PSC) for a hold to be placed on planned promotions this year, Attorney Rajendra Jaigobin, who operates from the Chambers of former Attorney General Anil Nandlall, is seeking the following declarations by the court: "a declaration that the Police Service Commission, a Commission established by the Constitution of the Cooperative Republic of Guyana, in the exercise of its functions shall not be subject to the direction or control of any other person or authority;
UK security expert Lt Col (rtd) Russell Combe, who is working closely with the Guyana government to resuscitate the Security Sector Reform Action Plan (SSRAP), will be broadening his mandate to assess the country's prison situation.