Missing pilot, cargo handler found dead in wreckage
Blake Slater and Dwayne Newton-Jacobs, the pilot and cargo handler from the Trans Guyana Airways (TGA) plane that crashed in the Middle Mazaruni jungle on Saturday, were confirmed dead yesterday and up to last evening soldiers were working to extract their bodies from the wreckage.
Guyana Defence Force (GDF) Special Forces officers arrived at the site of the wreckage of the TGA plane just after 7 am yesterday and found both of its occupants, Slater – who is Canadian – and Jacobs dead, the Guyana Civil Aviation Authority (GCAA) said in a statement. Slater was found in his seat and the soldiers were working to clear a pad to extract the bodies for transportation, the GCAA said.
Up to late yesterday afternoon, work to clear a spot for the helicopter to land was continuing but the terrain and the state of the wreckage was making it difficult, officials said. Director-General of the GCAA Zulficar Mohamed told Stabroek News that he was not sure when the bodies were going to be removed from the wreckage.
"There is difficulty because of the nature of the wreckage and the terrain," another official close to the investigation told Stabroek News. "It's a wreckage and the bodies are crushed," the official said while adding that the GDF helicopter was on site and waiting to extract the bodies. Stabroek News was told that both bodies are in the aircraft. They were crushed by the diesel drums that were being transported. The jungle heat was also contributing to decomposition.  Apart from the soldiers, GCAA inspectors, TGA officials and a medical officer were onsite, Stabroek News was told.
The plane, a Cessna 208B Grand Caravan, did not carry a 'black box' which would have recorded flight information, Mohamed confirmed.  The craft went missing on Saturday morning while transporting mining supplies from Olive Creek to Imbaimadai. TGA spokesman Kit Nascimento had told Stabroek News on Saturday that the plane, which bore registration number 8R-GHS, went down shortly after take-off from the small Olive Creek airstrip in the mountainous, jungle area in Region Seven. Nascimento said that at 10:55 am, shortly after the plane's take-off from the airstrip, a distress call was received from the pilot. He said that the airline immediately launched a full search and rescue operation using a plane that was in the area at the time.
The GCAA was also notified and activated its Rescue Coordination Centre and additional planes, two helicopters and army personnel were deployed to the area. After hours of searching, the crash site was identified on Sunday just after noon. An investigation into the cause of the crash is being conducted.
Yesterday, TGA via its public relations agency, in inviting the media to a press briefing today, only confirmed the deaths of its two employees.
'Filling in'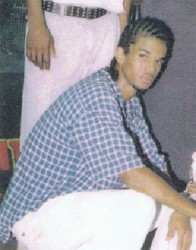 Grieving relatives of Jacobs were upset that the company had not contacted them since the news of the deaths were confirmed. It was Minister of Transport and Hydraulics Robeson Benn who called to inform the family of Jacobs' death, relatives said. Up to late yesterday, no representative from TGA had contacted the family, they said.
"My brother loved his job and was dedicated, never absent, always on time and willing to fill in for someone… and he was filling in when he reached his death," Jacobs' sister Mitzie Newton said.
Another sister, Monique said that Jacobs, 29, worked for 11 years with TGA. She too said that he was filling in for someone on that fateful flight. Usually for early flights, a company bus would pick him up but this did not happen on Saturday and he had to get his own transportation to the Ogle airport, she said. "He wake up and tell mommy he gotta go to the interior," she recalled.
Jacobs was in a rush and among a few other things, forgot his cap and called and requested that it be sent up with someone else who was supposed to be heading to the location, she said. "He seh some other boy was going up that morning." He usually texted before take-off but on this occasion, he did not do so, she added. "It wasn't him to go. When is early morning work for him, they come to pick him up," she said, wiping tears from her eyes.
Jacobs' mother Roslyn Jacobs and other relatives were upset that TGA had not contacted them. "They haven't called. They should have called," one declared. "They always calling him to fill in for somebody and he would always go."
Other relatives gathered at the home recalled Jacobs. His former supervisor at TGA, who left the company two years ago, said that he was very helpful all the time and even paid thousands of dollars in excess luggage charges for persons at various times.
Slater started working at TGA in April 2011 and was employed as a Command Pilot on the Cessna Caravan and Britten-Norman Islander, according to his LinkedIn profile. He described himself as a "young lad with a desire to explore new challenges and opportunities."
Meanwhile, regional airline LIAT, in a message of condolence, quoted its acting Chief Executive Officer Julie Reifer-Jones as saying "our thoughts and prayers are with the families of the captain and his lone passenger who both perished in the crash."