Two men have been arrested in connection with the murder of Saresh Gobardhan, whose body was found at the corner of the road at Dochfour, East Coast Demerara on Friday.
According to a senior police officer, two suspects are in custody in relation to the murder, Gobardhan, 21, of Lot 410 Lowlands, Hope, East Coast Demerara. It was further stated that the investigation file has been taken to the Director of Public Prosecution (DPP) and it is likely that charges will be laid today. A post-mortem examination (PME) conducted yesterday found that Gobardhan died as a result of multiple injuries to the head.
Speaking with Stabroek News, the victim's father Laikhram Gobardhan said he was told that on Sunday morning, the two men, whom he knows by seeing them in the village, were arrested by police officers.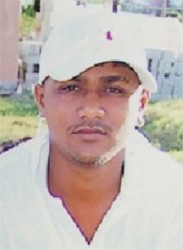 He also said he was told that one of the men was taken to point out his son's bicycle, which was in a trench about two miles from where his body was discovered.
He said his son left their home around 6.30 pm on Thursday evening to go and "hang" with his friends. He said he had left with a neighbour who returned a few hours later and informed the family that Saresh was at a shop drinking.
Gobardhan added that his son never returned home and the family though worried went to bed that night. He said when they woke up in the morning, there was still no sign of Saresh and he decided to search for his son but came up empty handed.
The young man's body was discovered about a mile away from his home, according to his father.
The distraught father recalled that on Friday afternoon, he called his son's phone a few times after he had not returned home. "Me been calling he phone and it kept ringing out; no answer me nah been getting," Gobardhan said.
Worried after multiple tries without any success, he said that he decided to make a report to the Cove and John Police Station. While there, he said, investigators called him aside and asked for a description of his son. "Dem ask me what he look like, what he was wearing and so on," he said.
Gobardhan said that after giving the description, he was told to go to Lyken Funeral Parlour to view a man's body, which could be that of his son.
He subsequently travelled to Lyken Funeral Parlour, where he positively identified the body as his son's.
The man said he had no idea why his son was killed. He said he was told his son had been playing pools at a local shop and an argument ensued over money. Gobardhan is expected to be buried today.
Comments

Eighteen prisoners at the Lusignan penitentiary were being treated for injuries last night following a reported attempt to kill a fellow inmate during which warders fired shots.

A 12-year-old girl is now dead, while her brother narrowly escaped a similar fate yesterday after their aunt's La Bonne Intention (LBI), East Coast Demerara house, which they were under, collapsed on them.

Guyana has officially applied for membership in the European Union's Extractive Industries Transparency Initiative (EITI) which will help in tracking revenues from oil and other natural resources.

State Minister Joseph Harmon yesterday reiterated that President David Granger's directive to the Police Service Commission to halt its consideration of promotions was intended to prevent damage to the image of the Guyana Police Force but he could not say under what authority the head of state acted.

While saying that a strong security presence along the country's borders is the first line of defence against transnational criminal syndicates, President David Granger yesterday called for cooperation by all actors to see the security of Region Nine as a priority.