Two more witnesses are supporting the allegations that Colwyn Harding was brutalised while in custody at the Timehri Police Station.
Although no one has so far attested to actually witnessing the sexual assault Harding allegedly suffered at the hands of a constable, who is accused of inserting a condom covered baton into his anus, what is clear from all civilian witness accounts so far is that he was so severely beaten that he was left bruised, swollen and rendered unconscious on at least one occasion.
And while the police force's Office of Professional Responsibility (OPR) works to meet today's deadline to complete its investigation, which only began last week following media reports, the Guyana Prison Service (GPS) has since launched its own internal investigation into an allegations against four of its officers, who are accused of assaulting Harding last week.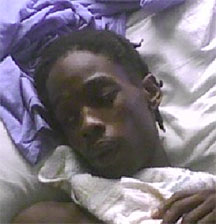 The physical assault allegation against the prison officers surfaced after the officers attempted to take away a cell phone that Harding had in his possession last Thursday night in the Georgetown Public Hospital (GPH). At the time, he was still in the custody of the prison officials. That alleged assault resulted in a 24-hour vigil at Harding's bedside since then.
Contacted yesterday, Director of Prisons Welton Trotz told Stabroek News that an internal investigation had been launched into the alleged physical assault and how Harding came to be in possession of the cell phone.
Harding was discharged from the hospital yesterday and left the institution where he had been hospitalised for a month. His mother, Sharon, when contacted last evening, told this newspaper that her son was being examined by a doctor. Harding's family had previously indicated an interest in having an independent medical opinion on his present condition.
Harding has alleged that the assaults on him began with his arrest on November 15 last year at a house in Timehri, where policemen held him and his girlfriend. He also alleged that after the sexual assault he was beaten at the location and subsequently at the Timehri Police Station over a two-day period.
His attorney, Nigel Hughes, in a Facebook post, said that on Sunday afternoon he visited the New Amsterdam Female Penitentiary, where he interviewed Harding's girlfriend Teanisha Evans. She had been sentenced to two years in prison on a theft charge. He also interviewed Tiffany Edwards, who was arrested shortly after Harding and Evans, two houses away.
Hughes said he took written statements from the two women of the events of that day and the time that they were in custody at Timehri. The statements were signed by the two women, who had been placed in the same pick up with Harding and taken to the Timehri Police Outpost.
Based on what Hughes said in his post, police last Thursday only took a statement from Evans. When Evans told the investigating rank that Edwards had been with her and that she was kicked by a constable, the rank, according to Hughes, told her that he was not there for that and took no statement from Edwards.
Evans, 18, of West Ruimveldt Front Road, said that on November 15, around 3:30 am, she was in a house opposite the Timehri Fire Station with Harding, who is also known as 'Bamma.' She stated that five persons, including four neighbourhood police, visited the house and said that they were searching for "weed." Based on what the teen said, they asked about Harding and when she responded they told her that she was keeping information and would be locked up.
According to Evans, three of the men, including the constable who would later be accused of the baton sodomy, took Harding who was dressed in a blue jeans and blue American Eagle boxers into the bedroom. Another man, she recalled, took her outside to the police van, which was parked in front of the house.
 Screaming
Evans said in her statement that she heard Harding screaming, "you all don't beat meh no more, you all gun kill me." She said the officers from the nearby fire station came out to the gate and were looking at what was going on.
She said that after about 20 minutes, she ran back into the house and saw Harding wearing different boxers. "I saw [the police constable] hit Colwyn on his hand and tell him put on your clothes we are going to the station. His hands were swollen and he was limping," she said, before adding that they later picked up Edwards and a 12-year-old boy who was broadsided to the face with a chopper by police.
They were then taken to the outpost, she said, and Harding and the 12-year-old were handcuffed to a bedframe.
She said that after the police officer left, Harding told her that the police constable "beat he and push his finger up his anus first then he carry he to the bathroom, throw water and a cokes on he and tell him to wine like a girl. He said the constable [name stated] beat him and he get blacked out. The constable told him he gun push a condom on a baton and push it in him."
The police officer, she said, returned about an hour and a half later and took the four of them to the Timehri Police Station, where they were placed on a bench and not allowed to make phone calls. While there, she recalled Harding's hand in a makeshift sling around his neck and she also noted that he was crying out for pain.
She said that she indicated to an inspector that an attempt was made to sodomise Harding and the inspector confronted the constable. The teen said that the constable subsequently grabbed Harding and she attempted to separate them and was pushed down by the constable, who caused her to hit her head on a desk.
She said in her statement that the last time she saw Harding was on November 19, at court, where they both tried to tell the magistrate about their injuries and about what had transpired. According to Evans, the magistrate told them that they had to wait until the trial.
Edwards, 18, of North Sophia, said that during her arrest racist remarks were directed at her. She said she was also cursed and chucked before being taken to the outpost. The young woman, who said she was two months pregnant, also claimed that while at the outpost the constable kicked her in her stomach three times, resulting in heavy bleeding. She later suffered a miscarriage.
She said that later they arrested her boyfriend, Ronsley Clarke, and brought everything from their house to the station. The items included a freezer, clothing, blinds, a stove and a tub. She recalled Harding crying out for pain and begging for contact to be made with his mother.
 Beatings
Clarke, 17, who is prisoner on remand in the Georgetown Prison, and Stephon Joseph Phillips, called 'Muslim,' have given statements to Hughes which detail brutal beatings that Harding sustained. Both men were detainees at the Timehri Police Station at the time.
Clarke, whose statement was taken by Hughes from the prison, said that when Harding arrived at the station on November 15, he was being beaten by two constables who were armed with batons. He said that the following day the beating continued to the point where Harding could not get up. He said that by the third lash, he blacked out but the blows lasted for about 20 minutes.
After the beating, he said, Harding was left lying on the ground, hollering and could not get up. Clarke said he and other prisoners had to carry him up the stairs. Later, he recalled that ice was brought to be put on Harding's body. The teen said that about five minutes later Harding was removed from the cell and taken upstairs. "When I woke up next morning Bamma was in my cell. He could not move," he said.
Phillips, who was detained along with his son, said in a signed statement that on November 15 he saw about four officers dragging Harding from the reception area to the cells. He said that Harding was screaming and hollering for murder. He said that when he later saw the man in his cell, he had visible injuries; his head and side were swollen and he could not stand properly.
According to Phillips, when he questioned Harding, he told him that the constable had sodomised him with a baton and that an inspector and other officers were there.
He said that the following day was uneventful but the next day Harding along with his son was beaten for about ten minutes. He said that later when he went into the cell he saw Harding on the ground and his head was burst. He said that he was bleeding from the head, foot and hand. Harding later fainted, he said.
Based on all the information this newspaper has gathered, after his appearance in court, Harding was unable to post bail and as a result he was taken to the Georgetown Prison, where he said he tried unsuccessfully to tell the prison officers what had happened to him. When he began, they started to laugh at him and according to Harding, he stopped saying anything.
On December 13, he was taken to the GPH, where he was diagnosed with an incarcerated hernia. It was here that his mother saw him and realised that his condition was serious. The woman had said that after returning home that day she texted Police Commissioner Leroy Brumell about what had transpired with her son. She said that she later received calls from Divisional Commander George Vyphuis and the officer in charge of the sub division in which Timehri Station falls. She said she informed them of the situation also. The policemen have since said that at no time were they told anything about Harding being sodomised with a baton. They say that the woman had said that her son was assaulted by a rank.
Harding had to be rushed back to the GPH on December 17, when his condition worsened. He underwent an emergency surgery the following morning. A second surgery was done later that month. He told this newspaper on Saturday last that doctors never told him what was wrong and had spoken directly to the prison official responsible for him.
Comments

Vamanadev Hiralall, of the privately-run Saraswati Vidya Niketan (SVN), is the country's top performer at this year's Caribbean Advanced Proficiency Examinations (CAPE) after achieving an accumulated 13 grade one and 3 grade two passes.

Twenty-six students in the top one percent of the 12,684 who sat this year's Caribbean Secondary Education Certification (CSEC) examinations earned 12 or more Grade I passes, with half of them, including the top performer, coming from Queen's College (QC).

On the second day of the Commission of Inquiry (CoI) into African ancestral lands and other matters, four witnesses made cases for the return of lands they feel they are rightly entitled to, which were either taken by the state or occupied by private owners.

Shelton George, the man charged with both murdering a waitress at a Chinese restaurant and the attempted murder of a magistrate, was found dead in his cell at the Lusignan Prison yesterday morning.

The Chairman of the Triumph Neighbourhood Democratic Council (NDC) yesterday instructed workers employed on a private site, reportedly intended to build a first-floor pool, to cease operations, just two days after residents called on authorities to halt its construction.