Although its crew was left shaken and extensive damage was done to the navigation and radio equipment during an attack by several armed men at Sand Hills, the MT Seven Mako is expected to leave for Grenada tomorrow, according to Jaime Ramroop, the local agent for Coastal Shipping.
The Antiguan registered vessel is owned by the Trinidad-based Coastal Shipping.
Ramroop told Stabroek News that the vessel is expected to leave for Grenada on Thursday with a consignment of 5,000 tonnes of sand. "We are trying to finish loading to catch the 9am bridge to sail to Grenada on Thursday. Right now we are doing fine work on the GPS," he said.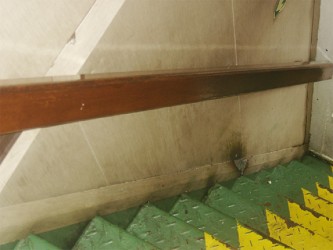 He informed that this was the first time the vessel had been attacked and put the losses at $6 million. "Twelve years I have been coming to Guyana and nothing like this has never happened before," he said.
On Monday, six armed men boarded the MT Seven Mako and Barge LM 2702 and they proceeded to tie up the crew and damage navigational and radio equipment. The men had set fire to the vessel.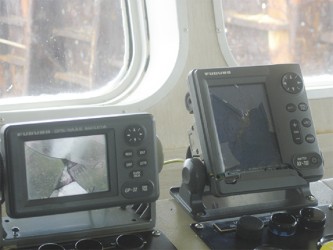 Dr. Grantley Walrond, who owns the sand mining concession where the vessel was docked, had said that it was a deliberate attack to immobilise the vessel.  The vessel was expected to leave with its first load of sand in recent years and Walrond suspected that the attack may have been engineered by someone connected with the sand industry.
Crime Chief Seelall Persaud had said that a team was dispatched to the area, and this newspaper understands that no one was arrested in connection with the attack.
According to Ramroop, "Six officers came and interviewed the crew one by one but as far as we know no one has been arrested."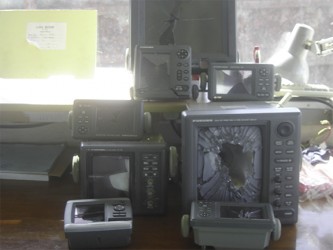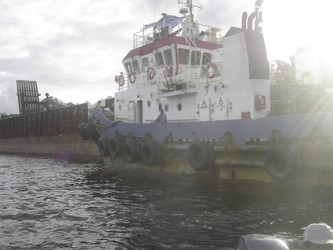 Comments
A thirty-year-old motorcyclist who last night allegedly rode into the rear of a stationary vehicle on the Wallers Delight Public Road, WCD, is warded at the GPHC in a serious condition.

(ICC) Antigua and Barbuda, Guyana and St Lucia were today announced by the International Cricket Council (ICC) as the venues for the ICC Women's World Twenty20 2018, which will be staged from 9-24 November.

The sugar union, GAWU today said that more sugar workers are to be made redundant.

(Trinidad Guardian) Education Minister Anthony Garcia says the University of Trinidad and Tobago (UTT) is of the view that the organisation is "overstaffed and to run the university efficiently it will mean they have to trim fat." But former Tertiary Education Minister Fazal Karim is warning that the decision to retrench 287 staff members, will "compromise the quality of teaching and learning and administration at the university," and may impact its accreditation with the Accreditation Council of Trinidad and Tobago (ACTT).

In preparation for Guyana's emerging oil and gas sector and the bustling business usually synonymous with the industry, the Pegasus Hotel is expected to undergo a huge expansion which includes office and residential rental spaces.