Guyanese-born security specialist Dr Ivelaw Griffith says he supports the "selective decriminalisation" of marijuana as part of the overall strategy for responding to the wider drug threat facing the region.
"There are countries in the region which have long said it does not make sense for us to be arresting persons for one marijuana cigarette simply to spend hundreds of hours in the courts that are already overcrowded.
So I do not see Caricom countries being reluctant as a group to go there," Griffith told Stabroek News in an exclusive interview on Monday.
Human rights groups and other here have argued that prisons are clogged with ganja offenders, many of them young, who should face non-custodial penalties.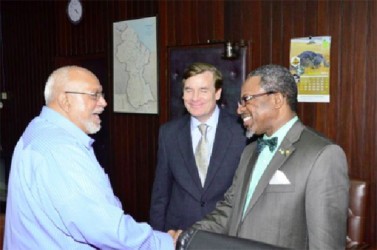 Griffith, who is here on a brief visit as part of a US State Department- funded International Information programme said, however, that regional efforts to address the issue of the decriminalisation of marijuana will have to contend with the long-standing objection of the United States government to the region taking that route.
"Of course, that is absolutely the case," Griffith said, responding to a question as to whether Washington is likely to frown on initiatives in the Caribbean to decriminalise the substance.
Regional discourse on the decriminalisation of marijuana goes back at least to the 1990's. In 2000, Prime Minister P.J. Patterson set up an official commission on marijuana use and it recommended that marijuana be legalised for personal use by adults. "The report was supposed to be tabled in the Jamaican parliament and the day before the tabling was supposed to happen the United States embassy put out a statement clearly indicating what the United States' position was and in not so many words clearly saying to the Jamaica government do not go there. Jamaica did not go there because Jamaica and many other societies – not necessarily in the Caribbean – depend upon the United States for various things… trade, tourists, foreign direct aid, support from international financial institutions for loans," Griffith said.
Emboldened by the legalisation of marijuana for recreational use in the US state of Colorado, key advocates of the decriminalisation of ganja in Jamaica recently launched a cannabis growers' association as momentum builds towards establishment of a formal industry on the island.
While acknowledging the challenge which the region  is likely to continue to face from the US on the issue of the decriminalisation of marijuana, Griffith, who currently serves as President of the Fort Valley University in Georgia,  told Stabroek News that he had "argued for years" for the "selective decriminalisation" of the sub-stance.  "Nobody is talking about legalising or decriminalising heroin or cocaine or crack." Griffith said, but rather, about "taking the substance that is known to be the least of the pyschotropics and doing something that will not have you tying up your criminal justice system with all these small substances (because) you are fighting [on] so many fronts and you are managing so many contradictions… fewer people die from marijuana-related consumption than they die from alcohol," Griffith said.
Griffith added that he believed that it was "only a question of time" before more countries begin to acknowledge that the "status quo is not helping. "…Because if you have this war against drugs you have to have the instruments with which to conduct the war. There are some people who would love to have status quo, but status quo is not helping the society, whether in Uruguay, Guyana, Guatemala or United States," he said.
According to Griffith, while the US' own position on the issue of legalising marijuana was unlikely to change, he considered it "a good piece of news" that President Barack Obama, during his most recent summit with the hemisphere had at least agreed to "listen" to the arguments made by other countries. "President Obama did not slam the door shut. He said, well, "I will listen." That, for me, signals a greater receptivity for looking at alternatives," he added.
Comments

Several hundred more sugar workers are expected to be laid off from the Skeldon, Rose Hall, and East Demerara estates by next month and the Guyana Agricultural and General Workers Union (GAWU) yesterday urged that the decision be reviewed.

The commencement order establishing the Telecommunications Agency was signed last Friday, in anticipation of the liberalisation of the telecoms sector, Minister of Public Tele-communications Cathy Hughes announced yesterday.

Nickela Craig-Singh, the woman who was arrested last Friday after the Customs Anti-Narcotic Unit (CANU) found over 10 pounds of cocaine in the ceiling of her Soesdyke home, was yesterday sentenced to four years in prison and fined over $14 million after pleading guilty to possession of the drug.

Almost two weeks after he made a Facebook post in which he questioned whether the Indian High Commission was interfering in Guyana's internal affairs, Director of Public Information Imran Khan yesterday said that he regretted the "furore" his post created and admitted that it should have benefitted from "greater elegance or not have been made." After public reprimand and criticisms coming from even within the government, Khan, who initially staunchly maintained that he voiced his concerns in his private capacity as a citizen, said in a recent post on the issue that he now appreciates how persons may have interpreted his views as being some way reflective of the office he holds.
A young man seen in a recent viral video being brutally murdered in neighbouring Venezuela has been identified as a Port Kaituma miner.