Taxi-driver Leron Griffith was yesterday found guilty of causing the death of Chinese restaurateur Feng Xue Fang and was sentenced to 60 months in prison.
Griffith was charged with causing death by dangerous driving. It was alleged that on May 31, 2013, he drove motor car HC 2408 in a dangerous manner, causing the death of Feng Xue Fang.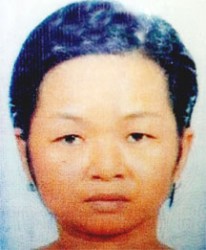 The trial, which ended yesterday, saw five witnesses taking the stand. In handing down her ruling, city magistrate Judy Latchman, who presided over the trial, emphasised that the court needs to send a strong message as a deterrent. She stressed the need for greater caution to be exercised by motorists, while noting the frequency with which road fatalities occur.  Feng Xue Fang, a Surinamese national who operated a restaurant on Mandela Avenue with her family, was killed on the spot as she was crossing Mandela Avenue.
Comments
British High Commissioner to Guyana Greg  Quinn  yesterday said that it was hoped that more would have been done to push the constitutional reform process forward.

A West Coast Berbice man died after he reportedly set his one-storey house ablaze sometime around 11.20 am yesterday.

A Yarrowkabra miner was yesterday charged with the murder of a co-worker, whom he allegedly beat to death during an alcohol-fuelled clash last Saturday at a dredge site in the Potaro Backdam.
A court action was yesterday filed challenging a directive issued in the name of President David Granger to the Police Service Commission (PSC) for a hold to be placed on planned promotions this year, Attorney Rajendra Jaigobin, who operates from the Chambers of former Attorney General Anil Nandlall, is seeking the following declarations by the court: "a declaration that the Police Service Commission, a Commission established by the Constitution of the Cooperative Republic of Guyana, in the exercise of its functions shall not be subject to the direction or control of any other person or authority;
UK security expert Lt Col (rtd) Russell Combe, who is working closely with the Guyana government to resuscitate the Security Sector Reform Action Plan (SSRAP), will be broadening his mandate to assess the country's prison situation.