There was no word from the police yesterday as to whether the Office of Professional Responsibi-lity (OPR) had managed to complete its investigations into the alleged baton rape and  beating of Colwyn Harding.
Police Commissioner Leroy Brumell had assured reporters last week that the probe would have been completed by yesterday.
While several sources close to the Force have said that the investigation was completed as scheduled and that several criminal and departmental charges have been recommended for all the ranks implicated, up to press time last evening this newspaper was unable to confirm if this was indeed so. Several attempts to make contact with the Commissioner were futile.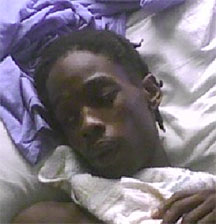 Brumell has said too that the findings of the probe will be made public but it now unclear when or if this will happen.
It is also unclear whether the constable accused of pushing a condom-covered baton up Harding's anus is still under close arrest. Several other ranks have been transferred to other police stations within `A' Division to facilitate the probe.
Both Attorney-at-law Nigel Hughes and Harding's mother Sharon, told this newspaper that they have heard nothing about the investigation.
Meanwhile, the police yesterday took a statement from 18-year-old Tiffany Edwards who said that she had witnessed the police beating Harding and had been told by the 23-year-old man that he was sodomized with a baton. Edwards was able to post $110, 000 bail and travelled to Georgetown from the New Amsterdam Female Prison where she had been housed since November last year.
She along with her 17-year-old boyfriend, Harding who is her cousin, his girlfriend and a 12-year-old boy were arrested in Timehri during the wee hours of November 15 last following allegations of break and enter and larceny.
The teen spoke to Stabroek News at Hughes' Hadfield chambers and said that she would later be heading to the hospital to be seen by a doctor. In an earlier statement to Hughes, Edwards had said that she was kicked three times in the stomach resulting in heavy bleeding and the subsequent loss of her two-month-old foetus.
Yesterday, the visibly upset teen said that the prison wardens refused to acknowledge that she had had a miscarriage, instead telling her that she had an infection. She said too that they told her that they did a pregnancy test and it came out negative. Edwards insists that she knew that she was pregnant and knew that she had lost the child since she has been experiencing heavy bleeding, clotting and pain since she was assaulted on November 15 last.
Edwards recounted more of the time she was in the company of Harding before she was taken to the East La Penitence Police Station. She explained that she spent one day at the Timehri Police Station and witnessed Harding being beaten and physically assaulted.
She said that while at the station she saw the constable trying to pull Harding into the cell. She said that during the afternoon hours on November 15 last the constable accused of the baton rape went into the cell several times and during that time she could hear Harding hollering.
According to Edwards while at the police station she had an opportunity to speak to her cousin who said that in addition to telling him degrading things and wetting him, the constable also pushed a baton up his butt. The young woman said that she is sure that Harding told her about the sodomy.
She said that while at the station Harding had difficulties walking and could only sit on one side of his butt. "While he was sitting he wasn't sitting permanently on his a.# #. He din sitting side way and he was smelling messy at the same time", she recalled.  She said that there was an inspector at the station and when they tried to tell the senior rank about all the degrading things that the constable wanted Harding to do as well as the baton sodomy they were laughed at. "It was a whole laugh in the station", she said. She said that when she left the station the next day (November 16), Harding had tied his hand in a sling and was walking like "he been pun he last".
She said too that they all appeared in court on the same day and Harding attempted to speak about his injuries but the magistrate wasn't giving him a hearing. She said that when he went to court, Harding was walking in pain. "He was walking like bruk up like", she said recalling that the prosecutor made no attempt to ask what was wrong with Harding.
The allegations of the baton sodomy were first reported in the local press on January 10. Police never began a real investigation until the following week claiming that they did not know the severity of the issue until they saw a recording of Harding recounting what had occurred.
What is of even more concern is that the police are claiming that Sharon Harding never informed them that her son was baton raped. The woman, however, has insisted that she told Brumell in a text on December 13 last as well as Divisional Commander George Vyphuis and the officer in charge of the sub division in which Timehri falls that her son had been sodomized with a baton. The woman had opted to text the commissioner after seeing her son's condition earlier that day.
Doctors have since said that he was taken to the Georgetown Hospital and diagnosed with an incarcerated hernia on December 13 and referred to the surgery department. He was rushed back to the hospital on December 17 after his condition worsened. He underwent emergency surgery the following morning. A second operation was done just over a week later. He has since denied ever being told that he had a hernia.
Harding was discharged from the hospital on Monday. He will have to have a final operation to his intestines in about three months' time.
Comments

 Geometric improvements will be carried out on the East Coast Railway Embankment Road come September for smoother traffic flow.
Swift action by the Law Enforcement and Investigation Division (LEID) of the Guyana Revenue Authority (GRA) aided in the removal of a large quantity of seized foreign chicken from two separate cold storage facilities in the Berbice area after it was discovered that the commodities were unlawfully being disposed of, the GRA said today.

Farha Faiz, a lawyer, speaks with the media after a verdict for the controversial Muslim quick divorce law outside the Supreme Court in New Delhi, India August 22, 2017.  

Defeat Tallawahs by 37 runs Chris Gayle, playing in his 50th CPL match, produced his 63rd T20 fifty as St Kitts & Nevis Patriots cruised past Jamaica Tallawahs by 37 runs to guarantee a place in the playoffs for the first time in their three-year history.

The Guyana Football Federation (GFF) has officially selected the Boys and Girls teams which will represent the nation at the Inter-Guiana Games (IGG) Goodwill Series scheduled for Suriname from the August 25th– 27th.