Former beauty queen Carolan Lynch was yesterday again charged with murdering her husband, a day after turning herself over to police.
The allegation read against Lynch by Chief Magistrate Priya Sewnarine-Beharry is that on May 7, 2007 at Eping Avenue, Bel Air Georgetown, she murdered her husband, Swiss House Cambio dealer Farouk Razac. Razac had been found dead on the floor of his Eping Avenue, Bel Air home and an autopsy confirmed that he had been strangled.
Lynch, who police have been trying to charge for more than three years, was not required to plead to the capital charge but her attorney, Latchmie Rahamat, maintained the woman's innocence.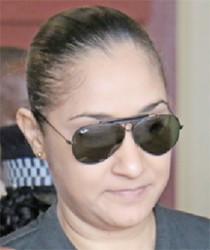 According to Rahamat, who appeared in association with attorney Peter Hugh, it is her understanding that the police have claimed that they have additional information against Lynch, although the defence has argued that there is none.
Counsel explained that after Lynch was first discharged during the hearing of the first murder charge in 2008, the defence moved to the High Court at which point the police were given 21 days to produce the new evidence which they claimed they had against her client but have since then failed to so do.
Prosecutor Bharat Mangru made an application for the case to be adjourned to February 5 for reports.
Lynch was subsequently informed that she would be remanded to prison and will make her next court appearance on the adjourned date. A number of relatives and acquaintances of the accused attended yesterday's hearing. Lynch, who appeared composed, sat in the prisoners' holding facility in the precinct where she could be seen reading a newspaper as she waited to be transported back to the East La Penitence lock-ups.
Hugh had confirmed that he had taken Lynch to the Brickdam Police Station on Tuesday morning. Stabroek News understands that after surrendering, the mother of one was taken to CID Headquarters, Eve Leary, where she was questioned.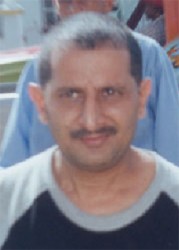 Lynch was first charged in May 2007, after Razac was found dead on the floor of their Eping Avenue, Bel Air home. Following a preliminary inquiry, then Magistrate Gordon Gilhuys in late December 2007 had ruled that no prima facie case was made out against her and she was subsequently discharged.
Shortly after the case had ended, police arrested her with a view to re-charging. She was, however, released a few days later after her lawyers moved to the High Court.
In October 2010, police filed a fresh murder charge against Lynch. The following month, the then Acting Chief Magistrate Sewnarine-Beharry issued a warrant for her arrest after being told by the police that Lynch had been formally served notice of the charge but had not appeared.
When the matter was called for the third time on November 10, 2010 at the Georgetown Magistrates' Courts, she was still absent and so the charge could not be read. In the months after, she still did not appear in court and adjournment after adjournment was given.
There was no word on her whereabouts until September last year  when reports surfaced that she had been working for a local tour operator unknown to police. Attempts had been made by the police to apprehend her but to no avail. Shortly after, police issued a new wanted bulletin for her arrest.
Comments

A section of the Kitty Public Road is to be closed from Wednesday as the Ministry of Public Infrastructure steps up road works in the area.

Anil Nandlall Former Attorney General Anil Nandlall today rejected an explanation by Minister of State, Joseph Harmon over the government's directive to the Police Service Commission to halt promotions.

The improvised weapons (Prisons photo) Prison Staff this morning with the support of the members of the other services, reported for duty at the new holding area lusignan Prison.

Nicolas Maduro CARACAS/LIMA, (Reuters) – A group of 12 regional nations plus the United States rejected Venezuela's new government-allied legislative superbody, saying they would continue to regard the opposition-controlled congress as the country's only legitimate law maker.

Eighteen prisoners at the Lusignan penitentiary were being treated for injuries last night following a reported attempt to kill a fellow inmate during which warders fired shots.