The file with the police's complete investigation into allegations of baton rape and physical assault made by 23-year-old Colwyn Harding, is presently at the Police Complaints Authority (PCA), its chairman, retired Chancellor of the Judiciary Justice Cecil Kennard confirmed last evening.
He said that he received the "thick" file around midday and was currently looking at it.
Persons close to the case explained that whenever an allegation of misconduct has been levelled against a police rank, it first has to be investigated by the Police Office of Professional Responsibility (OPR). Once complete, a file with all that had been gathered during the investigation and the recommendations of the OPR, are then sent to the PCA for further perusal and recommendation. That file is later sent to the Chambers of the Director of Public Prosecutions (DPP) for legal advice on what charges should be laid.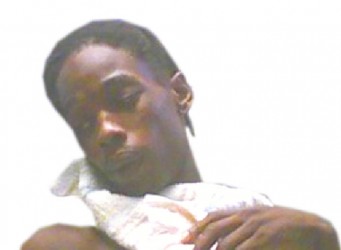 The file arrived at Kennard's office almost two days after the completion date that was given by Police Commissioner Leroy Brumell.
Police in a statement yesterday said the probe of the allegation made against the ranks of the Timehri Police Station has been completed and the force "is now in the process of seeking legal advice in the matter through the Chambers of the Director of Public Prosecutions".
The police had previously urged the media not to speculate but to await the outcome of its investigation.
When contacted yesterday, Harding's mother told Stabroek News that he is recuperating slowly and remains at a private city hospital. Harding was on Monday discharged from the Georgetown Hospital where he had been receiving treatment for a hernia since December 17 last. He had two surgeries for the hernia and according to doctors, he will need a third and final surgery to correct the problem.
At the moment, his waste is being collected by colostomy bags as his intestines are badly damaged. The allegation is that on November 15 last, shortly before he was arrested, a police constable pushed a condom covered baton up his anus. The argument is that this resulted in his intestines being damaged and leaving him in his present state.
Doctors at the institution have since said that he was being treated for a hernia and at no time did they see any signs of the alleged sodomy nor did he report it to them.
While they could not say with certainty if an object inserted into the anus could cause a hernia to develop they said that it is possible that constant hitting to the abdomen can cause such a condition. Harding, a father of one, is alleging that at no point did the hospital tell him what was wrong with him, instead on the two occasion he had to be taken there, they spoke directly to the prison officials.
Based on the timeline of events after the alleged sodomy occurred, Harding, his girlfriend and several others were arrested in relation to an allegation of break and enter and larceny. They were taken to the Timehri Police Station where Harding alleged that he was badly beaten. Several eyewitnesses corroborated his story with one saying that he was at one point beaten until he blacked out. One also said that ice was brought to put on his swollen body.
Harding several days later made his first court appearance in relation to assaulting a policeman but was unable to pay his bail. He was taken to the Georgetown Prisons where according to him he attempted to explain to prison officers what had happened. Instead of listening, he said they laughed at him and as such he did not get to finish his story.
Harding was first taken to the Georgetown Hospital on December 13 last where after examination he was referred to the surgery department. It would appear that he was given a return date and was taken back to the prison. Four days later he was rushed back to the institution after his condition worsened and he underwent emergency surgery the following day. It was on this day that his mother made contact with Brumell and later spoke with Divisional Commander George Vyphuis and the officer in charge of the sub division under which Timehri falls.
She said that she told each of the officers, when she spoke to them, about the sodomy allegation but police have said that were never aware of the seriousness of the issue.
Harding underwent a second surgery in December.
The allegations have caused public outrage. Persons both locally and overseas have been making donations for the purchase of colostomy bags, to assist with medical attention abroad and for other expenses that Harding may have.
Comments

UN experts condemn racist violence in U.S., urge investigations GENEVA, (Reuters) – United Nations human rights experts called on the United States today to combat rising racist violence and xenophobia and to prosecute perpetrators of hate crimes.

The twin-engine Beechcraft seized by authorities on an improvised airstrip on Sunday in the North Rupununi, Region Nine area, was yesterday confirmed as bearing a registration number belonging to an investment company in Brazil.

ExxonMobil yesterday signed a deal with Guyana Shore Base Inc (GYSBI) for an onshore support facility at Houston on the East Bank of Demerara.
While students who sat Caribbean Examination Council (CXC) exams in May and June of this year will be able to access their results online on Friday, the Ministry of Education has already announced that Guyana has recorded a 7% increase in passes at the Caribbean Advanced Proficiency Examinations (CAPE).

A post-mortem examination is expected to be done today to determine the cause of death of a nine-month-old baby, who died on Monday after she was left in a car.