A Linden woman is suffering from a broken neck after an altercation at the Linden Foundation Secondary High School led to a fight minutes later at the Mackenzie Arcade market on Tuesday.
Sabrina Skeete, 22 years, was attacked by three women at her place of employment in the arcade after retrieving her younger sister from the high school and exchanging words with another student who has been continuously bullying Skeete's sister.
Skeete's mother told Stabroek News that her 22 year old daughter went to pick up her sister from school because the younger girl was receiving threats from bullies.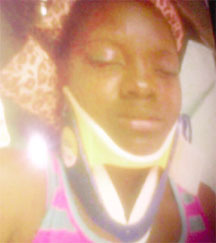 At the high school Skeete and one of the bullies exchanged words with Skeete asking for her younger sister to be left alone. After Skeete sent her sister home and returned to work at approximately 2:30 pm, the student along with her mother and another sister approached Skeete and 0began to beat her with broomsticks outside of a market stall.
Skeete's mother said that persons tried to intervene, but the three women who were doing the beating would not let up. Skeete's mother told Stabroek News that the three women were taken to the police station and so was her daughter, who began complaining of headache.
At the Mackenzie Police Station the three women involved in the attack were given notices to appear in court on Wednesday. Meanwhile, Skeete was taken to the hospital, but was sent home because no x-ray could be taken at that time. Yesterday morning, Skeete visited the hospital again after prolonged pains throughout her body the previous night. It was then discovered that her neck was broken.
Skeete's mother told this publication that her daughter was sent home in a neck brace and would need to be checked again today for further injuries. She noted that there was a lack of hospital staff who could read the x-ray which resulted in the multiple trips.
Comments

Legal Advisor to the Police, retired Justice of Appeal, Claudette Singh yesterday testified that there was insufficient evidence in the allegation made by Andriff Gillard of an alleged plot to assassinate President David Granger.

Today at 2 pm the 30 councillors of the Georgetown City Council will once again cast a vote on the future of metered parking in the city and several of them have told Stabroek News that they want to be sure their vote accurately represents a mandate from residents.

Crime Chief Wendell Blanhum yesterday made a written request to be recalled before the Commission of Inquiry (CoI) investigating the allegation of a plot to kill the President of Guyana to defend himself against "appalling" statements made by Assistant Commissioner of Police David Ramnarine.

Two men were yesterday remanded to prison by a city magistrate after they were charged with the fatal stabbing of Rawle Rodrigues which occurred in January.

Amid accusations that he has improperly tried to direct a constitutional commission, President David Granger said he had asked for a delay in police promotions to address complaints that have been made against law enforcers.