Entrepreneur Gail Russell yesterday launched Yog Yog's Frozen Yogurt parlour with hopes of luring smart eaters.
The new business, located at the corner of Albert and Laluni streets, Queenstown, next door to Nimbus Water, will retail frozen yogurt, a healthy alternative to consuming ice cream, at just $100 per ounce.
An ounce of frozen yogurt is 80 calories in comparison to an ounce of ice cream, which is 280 calories. While the low calorie count would allow for persons to eat larger portions while maintaining their daily average calorie count in order to stay in shape and healthy, Russell said yogurt is very filling, which allows for persons to feel satisfied though they would have consumed small portions. In addition, frozen yogurt differs from the packaged yogurt widely available in supermarkets. It has a much creamier and ice-cream-like texture, offering a tasty treat to those who might have a sweet tooth.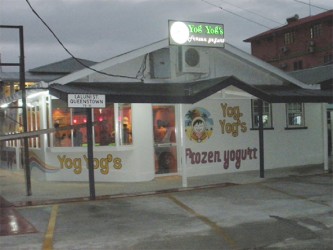 The parlour opens today and according to Russell, patrons can look forward to ten interchanging flavours available per week with over 50 toppings. Carmel Custard, Rum, Banana, Mango, Strawberry Cheesecake and Death by Chocolate are among the 150 overall flavours that will be available.
There are yogurts available for diabetics as well, with a variety of toppings to choose from.
The idea of a yogurt parlour was born in August of 2013, according to Russell, who said the venture represents an investment of over US$250,000. Russell said that being a personal trainer in Canada and providing personal training in Guyana for the past 15 years, she felt that it would be wrong for her to open a fast food or ice-cream chain. Thus the idea of a yogurt parlour was born.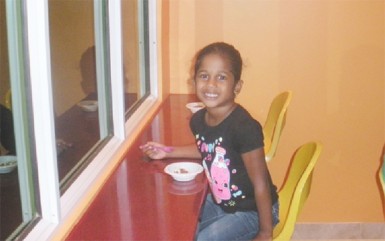 She added that travelling in and out of Guyana has led her to realise that Guyanese are health conscious, aware of healthy eating options and ready for such a niche idea.
Russell plans to someday have a chain of yogurt parlours and hopes to have the second branch opened in another six months. A location has not yet been found.
She added that she also plans on having the frozen yogurt packaged for takeaway, since it is currently only available in soft serve. The cozy parlour also provides outdoor seating and a relaxing atmosphere for the entire family, Russell said.
Comments

Finally honouring a court decision, the New Building Society (NBS) yesterday afternoon wrote a $59,033,000 cheque to former manager Maurice Arjoon for pension owed, after his lawyers attempted to levy on the assets of the bank, which then locked the doors of its Avenue of the Republic headquarters with customers and others inside.

A Diamond resident was yesterday remanded to prison after being charged with the death of Ishwar Ramanah, the Kaneville machine operator who was fatally shot during a robbery at his home last month.

A Sisters Village shop owner and his wife were seriously injured on Monday evening when they were attacked by cutlass-wielding bandits, who robbed them of the day's sales.

Although the Government of Guyana has paid more than $26 million for the Commission of Inquiry (CoI) into the education system, its final report has not been submitted after nearly two years.

Two children were rescued on Monday night by a neighbour after a fire ripped through the top flat of their home at Unity, Mahaica, East Coast Demerara.