Persaud's resignation will not impede elections
–Ramotar says no hurry for replacement
The resignation of Local Government Minister Ganga Persaud will not impede preparations for local government elections, says President Donald Ramotar.
Persaud, who has been government's point person on local government elections, on Thursday announced his resignation, which will take effect on January 31.
But Ramotar told a news conference at Office of the President (OP) yesterday that there is no rush to replace Persaud.
Persaud has commenced preparations for local government elections, which he said could take place in the third quarter of this year. Asked if the elections were still a possibility this year, Ramotar would not give a conclusive answer yesterday. Instead, he said, "we [the PPP/C] are ready for elections like yesterday."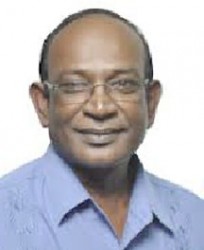 Persaud's resignation was made public via a press release as Thursday's sitting of the National Assembly was in session. Reactions from government and opposition members both indicated that the announcement came as a surprise.
Ramotar, however, said that he was not surprised as the two had discussed the issue from time to time, and when Persaud tendered his resignation he decided to accept it.
There is speculation that Persaud's may have been pressured to resign. Asked about this, Ramotar refused to say more than "I accepted his resignation." When he was pressed further on his involvement in Persaud's resignation, Ramotar said, "He resigned and I accepted his resignation."
Persaud, who took office following the 2011 elections, is the first minister to resign from the Ramotar administration. During his tenure, he had found himself and his ministry in various compromising positions and it is argued that these occurrences might have contributed to his resignation.
Persaud, however, said that personal issues and other responsibilities influenced his resignation as minister. He will continue to function as an MP for the ruling PPP/C.