Police are still hunting for the suspect in the shooting death of 26-year-old Special Constable Quincy Wrights on Friday night during a confrontation with another man who visited his girlfriend's home in Guyhoc Park.
According to a statement from the police, Wrights' assailant was also under suspicion for a matter where a private security service's guard's gun was stolen from him. The incident, according to the release occurred on January 23.
The release said that Special Constable 14127 Quincy Wrights of Zesken-dren, Mahaicony, East Coast Demerara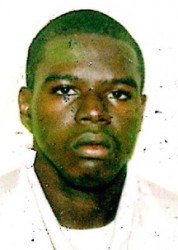 was shot in his chest and pronounced dead at the Georgetown Public Hospital.
Meanwhile, when Stabroek News visited the crime scene yesterday morning police were still retrieving evidence and questioning eyewitnesses. Ashanti Sankar, 25, said she was watching television with her son when Wrights' girlfriend, Lisa Adams called her and instructed her to tell someone that she was not at home.
"I went downstairs and I see Quincy and the other man arguing. The man said 'boy don't come up in my face' and they continue till I see he pull out the gun and shoot him. Then I run and hide because he start look fa me when Quincy fall," Sankar said, adding that the man then fled the scene.
Pauline Wright told Stabroek News that around 11.30 pm a cousin called her and said she was at the Georgetown Public Hospital and Quincy was dead. "She told me that her daughter was sick and she carried her [to the hospital] and then she see Quincy on the stretcher but he was already dead," she said. "I wish my son could get up and talk me when I saw him last night. I wish I could see him now," she said, adding that the reality of his death was slowly soaking into her mind.
She said that his father had seen him last Thursday on a police truck in Good Hope while he was headed to the city. "He said that he saw him and Quincy waved at him… That was the last time he saw his son before we saw him on the stretcher last night [Friday]."
The woman at the centre of the confrontation was still giving statements yesterday morning at the La Penitence Police Station.
Comments

The improvised weapons (Prisons photo) Prison Staff this morning with the support of the members of the other services, reported for duty at the new holding area lusignan Prison.

Nicolas Maduro CARACAS/LIMA, (Reuters) – A group of 12 regional nations plus the United States rejected Venezuela's new government-allied legislative superbody, saying they would continue to regard the opposition-controlled congress as the country's only legitimate law maker.

Eighteen prisoners at the Lusignan penitentiary were being treated for injuries last night following a reported attempt to kill a fellow inmate during which warders fired shots.

A 12-year-old girl is now dead, while her brother narrowly escaped a similar fate yesterday after their aunt's La Bonne Intention (LBI), East Coast Demerara house, which they were under, collapsed on them.

Guyana has officially applied for membership in the European Union's Extractive Industries Transparency Initiative (EITI) which will help in tracking revenues from oil and other natural resources.